Mercedes-Benz plays with speed
The luxury car co targets younger people with an OOH stunt in Toronto.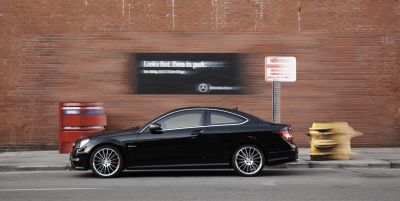 Mercedes-Benz continued the launch campaign for its 2012 C-Class Coupe this weekend with a OOH stunt in downtown Toronto.
The execution, done by the car co's media agency OMD with creative by BBDO, put a parked car at Queen and John streets and blurred the background with the tagline "Looks Fast. Even in Park."
Jay Owen, national marketing director, Mercedes-Benz Canada, says the goal of the execution is to reach out to people in their mid-30s, younger than the usual 40-plus demographic it traditionally hits.
"The C-Class Coupe is taking us into a different market segment," he says. "We need to as a brand recognize that growth is an opportunity if we bring down the average age of our purchasers and bring the brand to younger people."