AOY Bronze: Taxi revs its engine
The agency drives into third place with its work for brands such as Canadian Tire, Burger King and Telus.
Although this year's Bronze win is certainly not the first time Taxi has found itself in our Agency of the Year winners' circle – it has taken Gold five times in the past decade, after all – this is the first time it's done so as part of global holding company WPP.
When Taxi joined the company's Young & Rubicam Brands portfolio last November, CEO Rob Guenette promised onlookers that it would be the "same Taxi, bigger engine." And so far, he says, so good.
"We can punch way above our weight now with the help of WPP," Guenette says, noting that Taxi's New York office recently won the global account for Revlon because it was able to partner internationally with other WPP brands. "We would've never been able to do that without [WPP] because we don't have agencies in China or South America, for instance. The ability to ask for help where we have gaps has been fantastic."
He continues, "As an independent agency, it's really difficult to realize your global ambitions. We now feel that we've got the right partner."
While world domination may be the ultimate goal, most of Taxi's current business remains here in Canada, so we asked CCO Steve Mykolyn for his thoughts on the biggest trend in the Canadian ad industry this year.
"The big one is really the proliferation of social media, even more so than last year – in some cases it's actually the lead channel of the campaign," Mykolyn says.
This was certainly the case for "Go Pink," Taxi's Breast Cancer Awareness Month campaign for Telus, which encouraged users to turn their Facebook avatars pink to trigger a $1 donation to breast cancer research, hitting its target in just three days.
The digital sphere also played an important role in Taxi's inventive work for Canadian Tire, including the House of Innovation – an actual house that was purchased and renovated by the brand using products from the store, with how-to videos posted to HouseofInnovation.ca. It took home the Gold B!G Award earlier this fall.
Taxi's MO has always been to "doubt the conventional," and Guenette says he's seen a shift in brands' willingness to try new methods of connecting with consumers.
"We have big clients in our system that were originally seen as maybe a little more conservative in their go-to-market strategies," Guenette says. "[But] now that they've tasted innovation, they can see how it works on a broader holistic level and they're starting to have quite an appetite for it. I would say that's true for a lot of the big players we have – Telus, Kraft, Canadian Tire, McCain Foods."
Looking ahead to next year, Mykolyn says he wants to keep winning new business, especially in categories they've never handled before. "That's always fun at Taxi," he says. Toronto-based Taxi 2 is currently giving the financial world a spin, with Capital One recently added to its roster.
"For 2012 and beyond, we want to do bigger and better things with bigger and better clients," adds Guenette.
"Even the sucker punches we've had this year, like losing a beloved client like WestJet, have actually been good for us. We hope for more change in 2012 and bigger challenges. It sounds kind of corny, but that's really what we're about."
The facts:
Offices: Montreal, Toronto, Vancouver, Calgary, New York, Amsterdam
Staff: 339
New hires: Brian Clarey, GM Taxi Digital; Jason Lonsdale, head of planning; Sean McDonald, director, digital strategy; Stephen Bennett, digital CD Toronto; Matt Shoom-Kirsch, GM Taxi 2; Christian Quenneville, GM Taxi Montreal; Dominique Trudeau, ECD Taxi Montreal; Dave Clemans, ECD Taxi New York; Stephen Leps, CD Taxi New York
New business: Sun Products (Sunlight Laundry, Sunlight Dish, Snuggle); McCain (digital/social AOR); Johnson & Johnson (digital AOR for Listerine, Tylenol, Benylin); Kraft Dinner; Kraft MiO; Crosby's Molasses; Rexall; BCLC (PlayNow.com/Casinos/SportsAction); Capital One; CruiseShipCenters; Donnelly Group; Save-On-Foods; Vancouver Opera; Opus Hotel; Corvus Energy; Lifesaving Society; Rocky Mountain Dealerships; Osum Oil Sands Corp; Southcentre Mall; ConocoPhillips; Alt Hotels; Xbox (social media)
New international business: Bombardier; Revlon; Kraft MiO; Newcastle; Ikea (project); Unilever (TIGI Bed Head)
Canadian Tire brings it on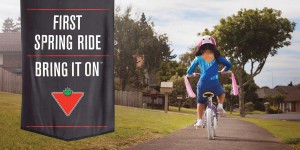 Canadian Tire's marketing efforts needed to support many different product and seasonal categories while building the larger brand. It also needed to be flexible, speaking to everyone from the mom looking for new Christmas decorations to the guy who needs new tires for his car.
"Bring It On" resulted from several insights: Canadian Tire's iconic brand status; having four seasons means that Canadians need a lot of stuff; and Canadian Tire needed to showcase not what it sells (people know that) but rather why it sells it.
The campaign and its tagline "Bring It On" articulated that no matter what the season, job or activity, Canadian Tire has what you need to take on everyday life in Canada.
The multimedia campaign launched with an anthem TV spot portraying some of the settings and circumstances Canadians experience, and their reactions to them. A series of TV spots, billboards, online executions, and point-of-sale materials continued to present scenarios (and related products) that captured experiences.
A unique element of the campaign was the House of Innovation. To increase customer perceptions of brand innovation, Canadian Tire became the first Canadian retailer to become a homeowner. They bought a house, moved in, and began work on a long list of repairs, improvements, and decorating projects. All the work was filmed and posted on a website showcasing the projects and all the innovative products needed to complete the work.
Burger King's spicy spots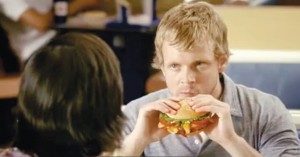 Burger King's marketing efforts in the past year have focused on a combination of a few existing favourites, like the Angry Whopper, and a number of new burgers.
Burger King is definitively a guy's brand, and given the burger lineup for the year, which had a heavy emphasis on either very hot flavour profiles or on very substantial burgers, the young male skew was confirmed. Burger King would have to appeal to the quirky sensibility of the target, saying things in a fun way to an audience who may not have the most sophisticated taste buds but who know what they like – bold taste and big burgers served up with a laugh.
Over the course of the year Taxi executed a series of burger-specific promotions. The Steakhouse XT was perhaps a little more impressive than the typical burger, so the work features an idea meant to appeal to the young guy's mindset: the Steakhouse XT is how you'd impress your date, if your date was you.
Another execution for the Whiplash Whopper – also a new introduction and also hot and spicy – shows it has a very feisty effect on those who eat it. The TV spot shows a young man seeking legal counsel to sue the chain for the burger being too spicy. Upon trying it, the lawyer excitedly agrees he has a case.
Throughout the marketing calendar, a mix of television, radio, out of home, and promotional elements was used. The combination of the type of humour and the type of food the target loves proved to be the right approach. All promotional windows exceeded sales forecasts, and for the year as a whole, overall restaurant sales are climbing.
Telus makes Facebook pink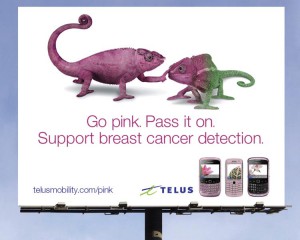 When Telus wanted to get the word out about its breast cancer initiative (in which $25 from the sale of three BlackBerry models would be donated to breast cancer research), Taxi recommended a social media approach.
The concept was "Go Pink" and the centre of the campaign was a pink chameleon. Creative elements encouraged Canadians to do one simple thing: for every Facebook profile picture that was turned pink, Telus would donate one dollar to breast cancer research.
In October, Breast Cancer Awareness Month, the campaign appeared in multiple media environments to prompt 50,000 Canadians (the original goal) to participate.
Elements included interactive shopping mall kiosks encouraging people to touch the chameleons that appeared on screen to turn them pink, as well as online banner ads that turned pink every time the chameleon appeared on screen.
After increasing the commitment to $200,000, half a million people had turned their pictures pink and the $200,000 goal was met within two weeks.
In all, 817,000 people turned pink, and 442,770 new Facebook fans emerged, 55% of whom shared or invited friends to participate. Pink appeared on 250,966 newsfeed posts and had 333,563 global shares. Between the funds raised through phone sales and Facebook participation, "Go Pink" resulted in a $2.45 million donation, almost double the target.
Mini projects fun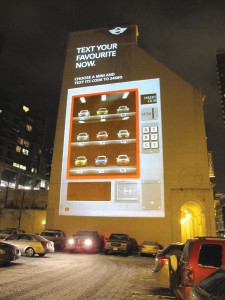 In 2011, Mini had made slight changes to the car and introduced four new colours, so the challenge was to showcase the updated models for the upcoming year and build anticipation for them.
Mini has always been a brand that's known how to do a lot with a little – it's the very premise of the brand itself – and it's also known for customization. So Taxi set out to create a campaign that would take the idea of quirky customization to an entirely new place – literally.
The Mini Vending Machine was an interactive night projection shown at different locations throughout the city of Toronto. Nine Minis with different colour configurations were displayed in a virtual vending machine and passersby were invited to interact with them by texting to a short code to select the Mini of their choice. Making a selection triggered the Mini they'd chosen to drive around in a fun animation, making its way down to the bottom of the vending machine.
Animations included a Mini whipping through an action-packed pinball machine, doing some serious doughnuts while the vending machine filled with smoke, and breaking through the vending machine glass and parachuting its way down. As the animation played, a personalized SMS message was dispatched to the participant, encouraging them to click through to a mobile-optimized web page to become a Mini Facebook fan.
High-profile locations, such as the Air Canada Centre, Queen Street and the bar district were chosen for the projections. And to create broader awareness, each execution was videotaped to produce a short video to be sent to the national press.
The Vending Machine was a hit, not to mention the largest projection ever done in Canada. It created PR and social media buzz around the world, and to cap it off, Mini counterparts throughout Europe and Australia are bringing the Vending Machine to those markets.
Boston Pizza calls in a critic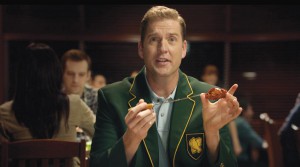 When your name is Boston Pizza, it is expected that chicken wings might not be your signature item. But to be competitive in the sports bar arena, a reputation for great wings is a must. After perfecting the recipes and upping the quality, the restaurant chain wanted to get the word out.
Boston Pizza kicked off its wing offensive during the 2011 NHL Playoffs. While increasing its wing fame was an overall goal, a concrete objective of increasing wings sales by 50% during the Playoffs period (April – June 2011) was set, with a broader goal of upping the brand's social media presence.
To turn the category on its head, and put an end to the overblown "best wings in town" competition among restaurants, Taxi created the Professional Wing Critics Association (PWCA) or, as they are more commonly referred to, "Flatties & Drummies." This team of highly trained aficionados observes the chicken wing category and weighs in with feedback.
Television introduced the one true chicken wing authority Carl Carlson, president of the Flatties & Drummies Association. Carl critiqued Boston Pizza's new wings from "Nib to Nub," using official wing cartography and analysis techniques only taught by the PWCA.
Online activity included banners, Facebook and YouTube. A microsite was created as the PWCA's corporate website, detailing what they were about and featuring full discussions about the finer points of chicken wings.
The goal of increasing sales by 50% was exceeded within the first two weeks. By the end of the eight-week campaign, wing sales were triple the estimated growth, with total same-store sales up 162.3% versus the prior year. The new wings soon became the fastest selling menu item in Boston Pizza's 47-year history.

Jump to:

AOY Gold: BBDO maps out a win

AOY Silver: DDB keeps exploring – and expanding

AOY Honourable Mention: Leo Burnett is back in the winners' circle

AOY Finalist: John St. hits its stride

AOY Finalist: Rethink's winning streak