AOY Gold: BBDO maps out a win
The agency takes Gold for the first time in our annual Agency of the Year competition.
Walk into the lobby on the 28th floor of 2 Bloor St. West in Toronto – one of several floors the agency occupies in the skyscraper – and white gleaming walls and wide open spaces meet you. On the elevator doors, you'll see "client passion," "accountability" and "enthusiasm" stenciled over bright graphics. Meanwhile, a staircase befitting a décor magazine winds its way up to the second floor, showcasing, in red letters popping against the white backdrop, the company's mantra, "The Work, the Work, the Work."
Welcome to the world of BBDO.
Though the agency has been in the AOY running frequently since its inception over 20 years ago, accumulating many Silver and Bronze awards, this is the first time it's taken Gold. The global agency goes back to the late 1800s in the U.S., and the Toronto office came from a merger between two creative agencies, Baker Lovick and McKim. Today BBDO honours its creative roots by committing itself to the idea of the work – the creative idea – and focusing on innovation, adaptability and process.
"It's always been a brand that's relevant in the world," says Peter Ignazi, SVP and ECD, BBDO Toronto. "If you look at Mad Men they're always referencing BBDO…our ideas stand out."
The idea of the work isn't just scrawled on the wall and forgotten. Innovation is rewarded and encouraged across the organization. "It's not just talk," Ignazi says of the company's mantra. "It's a cultural imperative."
How many traditional agencies reward their account people for being involved in the creative process? About nine months ago, BBDO created its "You Rock Account Person Award," given out quarterly to the account person who has done the most to further a great creative idea.
"Everyone has to feel invested in the work," says Carlos Moreno, SVP and ECD.
Changing with the times is arguably a tougher feat for a global shop with such heritage brand roots, yet BBDO has evolved as the definition of a full-service agency has shifted, Ignazi says.
"We were a great radio and newspaper agency back in the day," he says. "And we have to be a great through-the-line agency in the current media environment."
Hiring creatives with digital expertise is one way it's addressed the changing media world. Though digital savvy is important for the firm, it's the approach that supersedes all.
As North American president and CEO Gerry Frascione explains, the fact that campaigns have more moving parts these days has led BBDO to evolve its creative development process.
Putting the right content in front of the right eyeballs is borne out of a step-by-step process. Once they understand the business challenge and define the brand's purpose, they use a proprietary planning tool called InciteWork, which Frascione led the development of and has now been adopted by the global network.
The tool maps out the path-to-purchase for a particular product or service, identifies moments when consumers engage with that product and isolates the most effective channels in reaching consumers. That generates the brief, and then creative content development begins.
"It's a great planning tool," Frascione says. "The deliverables coming out of InciteWork is making sure we have a brief for the ecosystem we're trying to populate."
"It's about managing an eco-system," says Frascione, neatly summing up the scope of the creative challenge agencies currently face. And, in this case, master.
The facts
Offices: Toronto, Montreal, Calgary
Staff: 310
New hires: Kevin Pfuhl, SVP, managing director; Lezlie Grossman, SVP, managing director; Nancy Crimi, VP, associate CD; Deborah Prenger, VP, ACD; Steve Walls, planning director, Blackberry North America; Jason Perdue, copywriter; Jeff Cheung, art director; Jon Murray, copywriter; Patrick Shing, art director; Neal Khosla, copywriter; Marla Goodman, creative traffic manager
New business: Ministry of Health; Mike Holmes (Holmes On Homes); United Way; Heineken; Miller Chill; Mars (Dove, Twix, Pedigree, Whiskas, Starburst); Molson
Swiss Chalet's social TV hit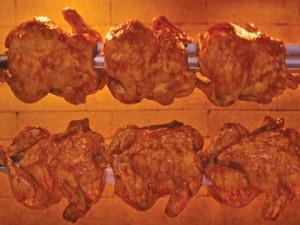 Cara Operations-owned Swiss Chalet has become a Canadian institution with an iconic product – rotisserie chicken. BBDO was tasked with pushing that thought even further into the public consciousness and driving sales.
The agency approached this challenge by unlocking a simple truth about rotisserie chicken: watching it cook, slowly turning on a spit, is pretty compelling.
So Swiss Chalet created a world media first by buying an entire channel on Canada's largest cable provider that just broadcast one thing: six chickens turning on a spit, 24 hours a day, seven days a week. To drive interest, BBDO shot teaser videos that appeared on YouTube and Facebook. Once the channel launched, promotion codes were intermittently featured offering deals on chicken.
The campaign broke through online media outlet (and strategy sister site) Media In Canada. The word spread and "Swiss Chalet" and "rotisserie" became trending topics on Twitter. The agency used what the public was saying about the Rotisserie Channel to create a new online video, showcasing quotes from actual tweets. Next came a TV, newspaper, online and billboard campaign.
The goal was 10,000 coupon downloads over three months but in week one, 13,707 were downloaded, growing to 32,546 after three months. It received over five million "likes" from users, more than 28,000 new Facebook friends, 8,224 downloaded screen savers and chicken delivery orders went up 30% almost immediately. It was the number two trending topic on Twitter and has earned over 36 million media impressions.
At this year's Cannes Festival of Creativity, the Swiss Chalet Rotisserie Channel won a Silver Media Lion.
Skittles' faux touch tech
Over the last several years in Canada, Skittles communications had been mainly limited to TV. BBDO's task was to engage fans with an entertaining digital experience that would bring to life the Skittles mantra: "An intersection of real and imaginary where unexpected possibilities abound."
Leveraging the Wrigley brand's existing quirky, popular creative, the agency wanted to show people what happens when they actually "Touch the Rainbow." But it didn't invent a new kind of touch screen. People were just asked to touch their computer screen and watch as their finger played a starring role in five online ads as crime fighters, hitchhikers and warriors, among other roles. If people moved their fingers away they saw text on the Skittle inviting them to put their finger back, giving the illusion of a much higher tech experience.
The videos were hosted on Skittles' Canadian YouTube channel, and sent to nearly 300 blogs. There was a link to the brand channel on Skittles' Facebook page, and a masthead on the YouTube homepage.
Within three days, the videos had over 1.5 million views, exceeding the campaign target of 800,000. They racked up over five million views, and were featured on 2,200 blogs over the month, earning over 104,600 comments, 88,000 Facebook shares and 5,000 tweets.
Skittles garnered the most YouTube subscribers in April, with over 11,000, and overall the campaign received over 60 million earned media impressions.
At Cannes this year's, "Cat" nabbed a Gold Cyber Lion while "Cat," "Cage Cop" and "Hitchhiker" won a Gold Campaign Film Lion.
FedEx evokes change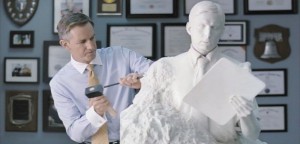 What do you do with a client that is really well known for being good at one thing, getting stuff there fast, when the business growth opportunity lies in non-urgent shipping?
FedEx had become a leader in International Priority shipping services, but shippers were forgetting about FedEx's other offerings, including deferred services to the U.S., International Economy and International Ground services. Shippers were using less reliable services for non-overnight shipments to the U.S. because they only saw FedEx as their shipper for rush, priority packages.
BBDO needed to show that FedEx is amazing at more than just one thing, so the agency introduced a character that was amazing at more than one thing too.
In keeping with the FedEx brand personality of funny, witty and confident, the message was delivered through an everyday office exchange between a boss and the target – the person in charge of an office's shipping needs.
To reach a broad audience, the campaign launched with a TV spot that highlighted the diverse skills of the boss, showcasing a new one with every new cut of the camera. His talents included golf, sculpture, surgery, tattoo artistry and chess.
To complement TV and talk to shipping managers when they were at work, FedEx went online with two additional executions. The boss' skills were further showcased and the shipping manager took on a more prominent role.
The online executions over-achieved against all campaign objectives and FedEx is increasing consumer awareness of its suite of offerings beyond International Priority.
"I don't know how they keep coming up with better and better work every year, against a major brand …. The 'Change' TV spot was perhaps the best television ad I saw come out of the country this year. [It had] humour, great writing, casting and direction – all in service of a solid selling idea."
–Judge Brian Sheppard,
EVP & co-ECD, Saatchi & Saatchi Canada
Shaw's amazing togetherness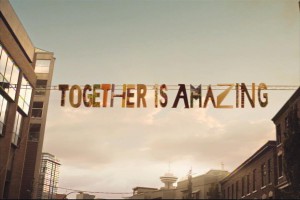 BBDO's new brand platform for Shaw started with its employees and created a rallying cry that unified its entire community.
In an increasingly competitive and technologically advancing market, the agency had to elevate Shaw to a brand people felt an emotional connection with. Shaw had millions of Canadians already connected through its technology. If it could harness the power of all these people and get them to feel part of a huge community, the possibilities for doing good would be endless. So the brand platform became "Together Is Amazing," and was deployed across all of Shaw's assets.
A manifesto video united staff. T-shirts with a single letter were distributed so employees had to seek out co-workers with complementary letter Ts and photograph themselves spelling out the slogan.
Prior to the 2010 holiday season, Shaw wanted to make sure that all Canadians would have a healthy meal, so it first encouraged its employees and then the general public to help fill food banks across Canada. Anyone could donate to a food bank, but it would take the entire Shaw community to fill every one of them.
An integrated campaign was launched that included TV, print, online ads and a microsite within the "Together Is Amazing" brand website where people could find the closest food bank, organize local grassroots events and connect with others. The goal was to raise one million pounds of food.
In addition to the overwhelming response to their brand platform, Shaw's first corporate initiative was an outstanding success. Shaw raised over 2.6 million pounds of food across Canada, 260% of its goal, the largest food drive in our country's history, proving that together really is amazing.
Doritos begins a flavour with The End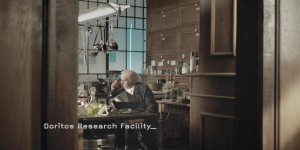 For the past two years, Doritos has been connecting with its consumers by letting them take control of the brand's direction. In 2011, it wanted to take the concept of user-generated content to a new level.
It began with the launch of two new flavours at stores across Canada in  BBDO-designed bags:  an "A"-emblazoned white pack for Onion Rings n' Ketchup, and a black bag marked "B" for Buffalo Wings n' Ranch.
A 60-second spot aired during the Super Bowl, setting the premise that there were two new flavours and one must be destroyed, but the kicker was that the last 20 seconds hadn't been written yet. At the 40-second mark, the commercial cut out, and consumers were invited to go to Writetheend.ca to describe which flavour should be destroyed, and how.
More than 30,000 people submitted entries and people could vote for the entries they liked best. The contest was supported with online ads, social media and a media buy on teen-centric TV channels.
Finally, a jury picked a winner from 14 peer-voted finalists. The winning ending was shot and revealed live on MuchMusic and MusiquePlus, and Mélanie Normandin of Repentigny, Quebec walked away with a cheque for $25,000 and 1% of all future Onion Rings n' Ketchup sales.
Frito Lay's goal of 6,000 submissions was beat by 500% with 30,000 submissions, plus 300,000 votes, and the site received more than 550,000 visits. There were 244 media stories, 187 million PR impressions earned and it all bumped up the number of Doritos fans on Facebook and followers on Twitter.
Jump to:
AOY Silver: DDB keeps exploring – and expanding
AOY Bronze: Taxi revs its engine
AOY Honourable Mention: Leo Burnett is back in the winners' circle
AOY Finalist: John St. hits its stride
AOY Finalist: Rethink's winning streak