DAOY Gold: Proximity's disciplined approach to digital
After a year of big growth, the agency takes Gold as our first Digital Agency of the Year.
How do you become a top award-winning digital agency in Canada?
You attract the best digital talent, you don't let the next hot innovation on the block distract you from pushing out unique ideas and you utilize global resources for global clients.
That, in a nutshell, is Proximity Canada.
Owned by BBDO, Proximity started as a direct, CRM and digital agency in 2001. And though digital has always been in its blood, over the past five or six years it's evolved from a classic direct marketing agency to one of the largest full-service digital communications agencies in the country. Along the way it has grown its team from 14 to over 170, with 83 new hires joining the fold over the AOY period of June to June.
"As we scaled, the key challenge remained the same – attracting top talent – especially when leading large-scale global business out of Toronto," says Dave Lafond, Proximity Canada's president, who has been with the company since May and came from Publicis Modem.
The Toronto office is the lead on worldwide assignments such as HP and Gillette, and it is the latter's digital AOR. One of the agency's first successes with Gillette was its 2008 BodyGrooming campaign, executed with BBDO NY, consisting of a number of how-to shaving videos for men. One such video, for the groin, went viral within days, garnering a mention on Nicole Richie's Twitter feed and a feature in the New York Times.
"The BodyGrooming initiative was being heralded as a new day for Gillette," says John Gagné, SVP and ECD, who has been with the firm since its second year.
Proximity's ability to leverage its global network certainly builds momentum on programs. One such collaboration, also in 2008 with the Chicago office, EnergyBBDO, was for Alka-Seltzer. Working with its U.S. counterpart, Proximity brought YouTube comedians Rhett McLaughlin and Link
Neal into the fold, filming a series of adventures called "The Alka-Seltzer Great American Roadtrip."
"It was featured on CNN, spawned several viral videos, was shortlisted at Cannes [and] brought us our first international awards at the LIAAs and New York Festivals," says Gagné.
"This network is unique in that it engages agency partners with open arms and an open mind," he adds.
As standalone agencies, Proximity and BBDO compete against each other and have a range of independent clients, but they also work together on clients such as RBC and Shaw. Being housed in the same office makes collaboration easier logistically, says Lafond, and enables them to harness their collective brain trust.
Proximity's direct roots show in its focus on the "should" over the "could," directing clients towards programs that best address their business challenges and drivers rather than jumping on the latest shiny new tech platform.
"Our direct and CRM heritage allows us to really understand data and insights and take a more disciplined approach to digital," says Lafond.
"If you look at the M&M's Find Red [program], we defined the experience we wanted to create and let each touchpoint be a catalyst to that experience," he says. "We didn't start with the touchpoint. What started as a digital treasure hunt finding red M&Ms in Google Street View resulted in an original digital game with international interest that garnered more than 15.6 million impressions."
The facts
Offices: Toronto and Montreal
Staff: 174
New hires: Dave Lafond, president; Christina Hill, Ricky Jacobs, VP, managing directors; Jeff Sangster, SVP technology; Scott Pinkney, VP, creative director; Ali Pulver, VP, operations. Also: 22 in Account Management; eight in Strategy & Insights; 27 in Creative; 12 in Project Management; two in Technology; two in Operations; four in Administration
New business: Grocery Manufacturers Association (GMA); Western Union; Holmes on Homes; Johnson & Johnson – Baby; RIM; LCBO; Campbell's, US; Starbucks
ProGlide's social challenge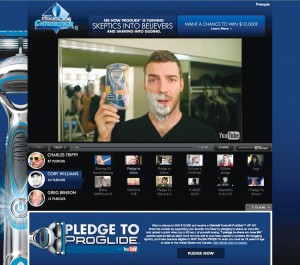 Gillette was introducing the new Fusion ProGlide, its biggest razor launch in years. But guys who wet shave were skeptical about claims of superior comfort and reluctant to pay more. Proximity's goal was to drive them to trial and make them believers, and the campaign encouraged converts to then spread the word through the ProGlide Challenge.
Gillette travelled across North America with mobile shave studios putting the razor into guys' hands, and capturing footage of them becoming believers. These testimonials were seeded online and put into online advertising.
At the same time, the agency reached out to bloggers, Facebook fans and YouTube celebrities to give away thousands of samples using a custom sampling widget. And ProGlide converts were invited to become advocates on YouTube, Facebook and Twitter.
Videos were uploaded to a holding database, where select clips were chosen to be shown on multiple digital platforms.
In under three months the campaign generated over 2.6 billion impressions through over 525 million impressions on Facebook, 900 million impressions through search, 23 million impressions with blog reviews and 4.4 million mentions on Twitter.
Awareness and trial was 4% higher than forecasted with repeat purchase 14% above target, and retail orders were 50% ahead of expectations.
The demand in North America was so high that the launch in Western Europe was delayed due to lack of supply, and in the U.S. the product sold at twice the MSRP online through Amazon, making the ProGlide campaign Gillette's most successful product launch ever.
The hunt for red M&M's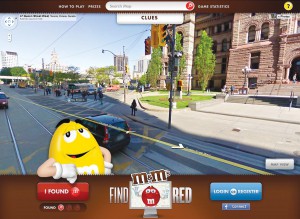 Mars brand M&M's wanted to bridge the awareness gap between two of the busiest consumption periods of the year, Halloween and Christmas. Proximity heard Google Street View was coming to Toronto, and the rest is digital history.
The "Find Red" campaign was a first-of-its-kind digital treasure hunt that began with a YouTube video that told the story of how Red (the red M&M's character) got sucked into Google Street View. The video directed players to FindRed.ca to start their search for three M&M's, and annotation clues were hidden in the clip. FindRed.ca allowed players to use Google Street View to search for the M&M's, with the lure of winning a red Smart car.
Over four weeks, players got clues on the website, Twitter and Facebook. Bold and bright wild postings with QR codes were placed around Toronto to bring attention to the game while allowing people to unlock special clues. To firmly integrate the product into the game, UPC codes on M&M's packaging were turned into clues using the StickyBits App.
Red even checked in with Foursquare around Toronto to help M&M's followers get closer to the hidden locations.
Aside from the wild postings, there was no media buy whatsoever; the game spoke for itself while relying on a limited blogger outreach and PR plan. In under four weeks, FindRed.ca was getting blogged, tweeted and Facebooked. Even local celebrities shared their love of the game. National and international media coverage also praised the work.
Besides the buzz, the most impressive result was that the average time spent on the site was over 19 minutes, four times the industry average. And in just 30 days, M&M's Find Red got 8.4 million PR impressions, over seven million QR code wild poster views and over 225,000 Twitter impressions, tallying over 21 million total impressions.
HP improvises with ePrint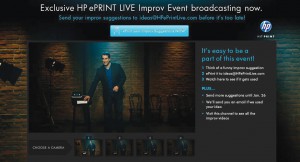 The "ePrint Live" program supported the launch of a new mobile printing technology called HP ePrint, offered exclusively on HP printers.
The challenge was to change the perception that you can't print easily from your mobile device. Proximity wanted to infuse the ePrint experience into daily activities, and to create mass trial among consumers and small and medium businesses (SMBs).
The core target was affluent, professional families, as well as digital tribalists (young professionals and students) and ambitious leaders (career-driven and hard working).
The insight was that the targets perceived their printers to be disconnected from the suite of digital tools in their daily life and therefore were printing less.
HP ePrint Live demonstrated the simplicity of the tech through crowdsourced improv comedy skits, designed to be shared virally. It showcased its functionality by having consumers around the world submitting skit ideas (via ePrint) to a printer on stage that the Upright Citizens Brigade Theatre acted upon.
Paid media raised awareness of the live event and social channels were used to generate conversations about HP ePrint. All efforts drove to the HP YouTube page that hosted the second-ever live streaming event on the platform.
The campaign was covered in 133 media outlets (New York Times, Mashable, etc.), and the average user tuned in to the live event for 19.5 minutes – over 2.5 times the average. In total there were one billion campaign impressions and 2.7 million participants.

Jump to:

DAOY Silver: BBDO's digital push pays off

DAOY Bronze: The unignorable drives John St.

DAOY Honourable Mention: Grip's digital growth

DAOY Honourable Mention: Taxi's big digital fares