MediaCom Canada's 2011 included a couple of big-time client wins, the creation of an executive position to head strategy and innovation, and to top it off, MAOY Gold.
The agency exhibited the Midas touch all year, convincing major brands like Yum! and Mars/Wrigley to join its roster and producing top-notch work for the likes of H&M and Maytag.
Agency CEO Jamie Edwards has steered a staff of 187 across offices in Toronto, Montreal and Vancouver in the right direction since taking control just over a year ago. Edwards says he was brought on as a result of senior leadership recognizing that the speed of change in the media industry was accelerating. With prior experience overseeing integration of digital investment for Aegis Media's global client roster as head of global client service at Isobar (he also launched Vizeum in the U.S.), Edwards understands that change.
"I was keen to create a culture at MediaCom that was actually much more consumer-centric and embraced much more integrated ways of thinking," says Edwards.
Part of his plan included the hiring of 15-year industry veteran Matt Di Paola in August as chief strategy and innovation officer, a new role at the agency. Di Paola, who moved to media from digital shop Proximity Canada, where he was VP and managing director for four years, has taken on managing strategy, digital thought leadership, as well as product and service development. It was Di Paola's non-traditional background that drew Edwards to him.
"I made the decision that I wanted my functional digital leaders to report directly to our strategy officer, hence why I hired someone from a much more integrated background," says Edwards. "That means digitalization is no longer a function or a channel, it is very much embedded in our integrated strategy approach."
Another component of MediaCom's refresh has been a focus on tools and data to bring added value to the solutions the agency develops for clients, says Edwards. In December it implemented its own business sciences division (parent company Group M also has one to which MediaCom has access) to help clients understand media mix and marketing mix modelling. It's been placed at the very heart of MediaCom's strategy function, under Di Paola's leadership, to help his group focus on how to better deliver on clients' growth targets. Kevin Keane, former analytics consultant for Canada's first digital shop Media Contacts, was hired to direct the department in February.
"I'm a real believer in provability," says Edwards. "Digitalization and the changing landscape allow us to prove more than ever the strategies that we're purporting will actually move the KPI [Key Performance Indicator] needle. And I think if clients understand that there's more provability in terms of strategy through media agencies – I'm finding that we're being invited to much more business-oriented conversations."
To make everything as seamless as possible internally, MediaCom's communications planning, research and analytics and business sciences personnel all sit closely together and its digital people are in close proximity to those who work on accounts.
Looking to the future, it's Edwards' goal to position MediaCom as an agency that's all about growth.
"I would love a situation where in a few years' time if clients were pushed to really define the essence of what MediaCom does for them, they'd say it's more akin to a growth agency: they grow our categories, they help us grow our business."
Agency stats
Staff: 187
Offices: 3
New business: Mars/Wrigley, Yum! Brands
Notable hires: Matt Di Paola, chief strategy and innovation officer; Kevin Keane, director of business science
H&M rocks the MMVAs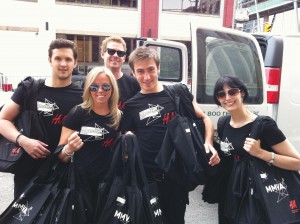 There is nothing quite like the MuchMusic Video Awards (MMVAs). Every summer for one night only, the MuchMusic building in Toronto transforms into a multi-stage, outdoor extravaganza for broadcast across the country and around the world.
MediaCom earmarked the MMVAs as a homegrown property Swedish retailer H&M could leverage to boost its credibility among youth in Canada. With Lady Gaga performing and Selena Gomez co-hosting, a huge audience was forecast. When a sponsorship slot opened up, MediaCom leveraged its relationship with Bell Media to secure it.
H&M would become the first-ever "fashion authority" of the MMVAs and the first-ever third-party designer of the MMVA wristband. The agency created a dedicated Fashion page on the MMVA microsite, populating it daily with celebrity fashion content and trend messaging (plus campaign ads) from H&M. Tagged broadcast promos paired with brand ads reinforced H&M's position as the show's fashion authority.
A contest was created to find a blogger who would cover everything fashion during MMVA weekend, with all associated media at deal rates (another first). A slick broadcast spot produced with MuchMusic showcased H&M clothing and encouraged contest entry. Entrants submitted videos showing their fashionista cred and mobilized their own social networks to vote. Wristbands were given away via the H&M Twitter handle.
Offline, there was a performance by Dragonette in the H&M Queen Street store the Thursday before the show.
The 2011 MMVAs were the most-watched broadcast in MuchMusic history, with a 67% increase in viewers 18 to 34 (H&M's demo). The MMVA microsite saw a 125% increase in visits over last year on show day. Thousands of consumers voted in the contest. H&M grew Facebook "likes" by 15% and Twitter followers by 20%. And one happy fashion blogger flew home to Victoria with once-in-a-lifetime memories.
HomeSense gets set to inspire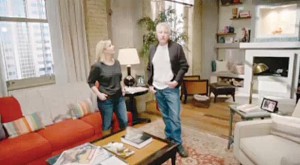 Typical HomeSense shoppers – women aged 25 to 54 – watch hours of home design and reno reality programming for inspiration when making their own decor purchases. MediaCom hypothesized that they must also dream of keeping a home as beautifully appointed as that of Bree Van de Kamp from CTV's Desperate Housewives.
This insight led to the opportunity: leverage scripted programming as a platform for delivering home design inspiration/advice.
MediaCom engaged CTV to use its connections with producers of North America's biggest scripted programs, securing access to sets and set designers from shows like Grey's Anatomy, Private Practice and Desperate Housewives.
A series of custom 30-second spots was created, featuring the set designers describing their inspiration for some of the most recognizable rooms on TV and driving to webisodes online. The online clips delved deeper into the characters' decor tastes, and demonstrated how to achieve similar rooms for up to 60% less at HomeSense.
To encourage engagement, a contest offered a viewer the chance to visit L.A. for the ultimate Hollywood studio tour plus spending money, and HomeSense gift cards to use when they return freshly inspired. On top of the brand spots, partnered content spots, web hub and contest, full-page advertorials ran in the Globe and Mail's Saturday Style section.
HomeSense scored the most contest entries ever for a CTV branded partnership, garnering more than 40,000 unique page views on the web hub.
Maytag's Laundry Night in Canada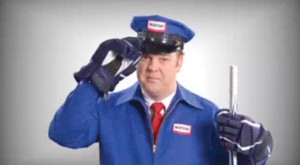 To complement its American-imported 30-second brand spot introducing the new Maxima laundry machine, Maytag asked MediaCom to create a tough and uniquely Canadian campaign.
While female-targeted appliance brands typically avoid "male-dominated" environments like sports, data showed that Canadian families – including moms – tune their TV sets to hockey playoffs throughout the summer. MediaCom forecast that the 2011 playoffs would be particularly
well-watched, given Vancouver's possible chances of advancing.
The agency identified NHL playoff hockey on CBC as the medium, and then secured all remaining inventory, consisting of one 10-second spot per game, with priority first-in-cluster positioning. In the creative, players wearing jerseys emblazoned with the iconic Hockey Night In Canada logo come off the ice to find the Maytag Repairman in their dressing room standing alongside a Maxima duo. The players throw their soiled jerseys in the machines, which, as the voiceover reassures, offer the best cleaning in the industry – tough enough even for a team's worth of hockey gear.
MediaCom secured rights to the Hockey Night in Canada logo at a substantial discount given the non-traditional revenue source – rights that are typically only available to multi-million-dollar sponsors. It also negotiated three bonus laundry integrations on Steven and Chris – the daily lifestyle show enjoyed by moms 25 to 54.
Sales of the Maytag Maxima doubled during the campaign, and overall brand share saw concurrent double-digit growth. The 2011 NHL playoffs were the most-watched in CBC history, driving a viewership index of 149. Game 7 of the final round was the most-watched HNIC broadcast ever. Most notably, the finals saw a 112% increase in female viewers. The co-branded spot scored as high as the concurrent 30-second brand spot in testing. Now that's maximum impact.
"A great use of 10-second spots in a high-profile TV event. Clever, impactful and unique."
–Judge Laura Gaggi, Gaggi Media Communications
Jump to:
Media directors of the year: Terry Horton, VP, media director, Cossette Media and Mark Sherman, founder, owner, executive chairman, Media Experts
Next Media Star: Shahnaz Mawji, supervisor, communications strategy at Carat
MAOY Silver: Media Experts stays ahead of the curve
MAOY Bronze: Mindshare dives into digital bridging
MAOY Honourable Mention: Starcom's streak stays alive