Toyota gets back on track
After a series of recalls and natural disasters, the carco is rolling out a record number of new models, with marketer Stephen Beatty behind the wheel.
Toyota Canada is revving up for the most rapid-fire series of launches in the company's history. Over the next 18 months, the brand will introduce roughly 20 new or significantly changed models, starting with four this fall – including the first member of the new Prius family and the 30th-anniversary Camry.
"At virtually any moment over the [next] year and a half, we're going to have something new in the marketplace that brings out a different aspect of our brand," says Stephen Beatty, managing director, Toyota Canada. "I think that's really a magic moment for us to propel the company forward."
But while Beatty sees opportunity in this slew of back-to-back releases, the tight timeline didn't come about by choice. A number of snags along the way have resulted in flagging consumer confidence and pushed the launch dates closer together.
"If you look back at the last couple of years, we've faced some challenges not necessarily of our own making," he says.
It began with allegations in late 2009 and early 2010 that Toyota vehicles were experiencing unintended acceleration. Millions of cars were recalled, the story made headlines and Toyota elected to briefly suspend sales and production of eight affected models while dealing with the issue.
"[Our vehicles] are very safe, but it raises some challenges if that's being questioned on the six o' clock news," Beatty says. "In the middle of a media storm, the very first priority is to deal with the people who've made you the success you are."
As reviews were conducted by the U.S. and Canadian governments, Toyota worked with dealers to connect with customers, making sure they had the information they needed to remain confident in its vehicles, Beatty says.
"The result was very high levels of loyalty in returning customers over that period," he says. "We thought about that strategy very carefully to say, 'Customers first, let the rest of the marketplace take care of itself.'"
Just as Toyota was finding its footing again, an earthquake and tsunami hit Japan this March, breaking off supply lines. Once again, the carco was forced to hunker down and focus on rebuilding.
"By the beginning of September, we were back not just to 100% production in North America but 110% at most of our plants," Beatty says.
But while production was getting up to speed, sales of Toyota brand vehicles were down 12.3% that month, while the company's luxury Lexus brand was down by 11.3%. Over the past year, market share for the Toyota brand has fallen by 1.4%.
Although it's been a tough time, Beatty believes there are upsides to even the biggest challenges. "You get smarter, you get leaner, you get more focused on doing the right things at the right time to drive the business forward," he says.
The new-release bonanza offers a chance to re-enter the marketplace in a big way, with a diverse range of campaigns by Saatchi & Saatchi and Dentsu Canada, who share creative and media agency duties.
The fall releases kick off with the new Camry launch, including a Saatchi campaign celebrating the car's 30th anniversary and track record of setting the standard for mid-sized vehicles.
"Camry has been the number one selling car in North America for 13 of the last 14 years," says Beatty. "The latest Camry gives us an opportunity to not only redefine the brand but also to challenge the rest of the industry to try to meet the new benchmark," says Beatty.
The campaign went into market in mid-October and highlights "30 years of our most brilliant thinking," with print, TV and online creative featuring a succession of light bulbs going off.
While the Camry spots laud brainy thinking, Saatchi's 2012 Yaris Hatchback campaign aims to redefine sex appeal, suggesting that while reliability isn't usually considered sexy, when it comes to your vehicle, it can be "quasisexy" (in French) or "sexyish" (in English). Since small-car-loving Quebec accounts for 65% of Yaris sales, the creative was shot in Montreal using local talent.
Toyota's small car niche gets even smaller with the microsubcompact Scion iQ , a competitor to Mercedes-Benz's teensy Smart ForTwo. Launched in 2010, the iQ targets young singles and couples, as well as corporate artistic types, urban dwellers and empty nesters, with a heavy dose of lifestyle marketing.
"It's been performing really well at the task we set for it: bringing people who are new to the automotive marketplace into Toyota showrooms," he says.
The 2012 launch campaign by Dentsu begins this month with cinema ads that hang on "I" statements, such as "I'm going to be Big," driving home the notion that iQ is redefining the microsubcompact segment as the world's smallest four-seater.
The iQ brand has also given Toyota an opportunity to test new types of marketing, Beatty says, from staging a flash mob in Montreal during the F1 weekend this summer to bringing graffiti artists into Toronto dealerships. Music has been another a key component, with a North America-wide streaming radio site created to engage consumers, as well as Facebook and Twitter accounts.
"Word of mouth has always been perhaps the strongest factor in selling a Toyota," Beatty says. "We have this strong group of advocates, and social media [lets us] maintain an ongoing dialogue."
Furthering the carco's digital reach, Lexus recently became the presenting sponsor of the new CTV iPad app. The app allows users to stream TV shows (with Lexus pre-roll) and enter a curated chat/social media environment.
Digital is also the driving force behind the launch of this fall's Prius V, with TV billboards sending viewers to a site housing animated videos about different aspects of the car, from its practical benefits to the fun of ownership. In the new year, this campaign by Saatchi will expand to feature new members of the Prius family and broaden to a more traditional media buy, while keeping the same visual aesthetic.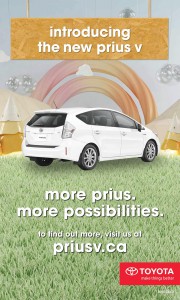 "We're taking a very colourful, almost whimsical approach to our advertising with the Prius," Beatty says. "Increasingly, as we look at our core models, each one does have a personality or attitude."
While the Prius hybrid was designed as an "entirely rational" vehicle – offering the best fuel economy with the lowest emissions – it's become a car that people felt emotionally connected to, he says. He points to the 90-year-old Ottawa woman who bought a Prius as her last car because she wanted to leave an eco-friendly legacy, and the Vancouver taxi driver who inspired others by choosing a hybrid.
"Those types of stories changed the understanding of what a brand is all about," he says. "We might own the intellectual property, but the brand is defined, driven and owned by consumers."
More and more, he says, Toyota has learned to build marketing around the consumer, rather than the car.
"It's also a much more integrated approach we're taking today," he says. "Five years ago, we had the 'launch and leave' syndrome. Increasingly we understand that, yes, it's about establishing the brand, but also sustaining it."
With the busy year ahead and some damage control still necessary, Beatty and his team will have plenty of chances to work on both.
BEATTY BIO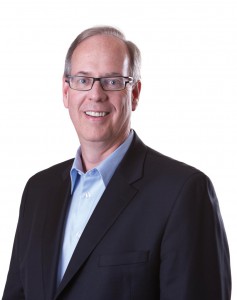 1958 Stephen Beatty is born in Toronto.

1981 He completes a bachelor of arts in political science at the University of Guelph, followed by a bachelor of arts in sociology at Carleton a year later.

1986 After spending several years working in government, he's appointed chief of staff to the Minister of Justice and Attorney General of Canada.

1989 He joins the private sector, becoming executive director of the Canadian Apparel Manufacturers Institute and the Canadian Apparel Federation, the Ottawa-based trade associations for the clothing industry.

1992 He goes back to school to complete a master's degree in public administration at Carleton.

1998 After a decade in the apparel industry, Beatty switches gears to automotive, joining Toyota Canada as national manager, government and public relations.

2001 He becomes Toyota Canada's VP of corporate affairs, with a title change to managing director in 2003.