Coca-Cola cans turn white for holidays with massive in-store push
Over 15,000 outlets incorporate targeted messaging and elements of the new polar bear holiday can.
Coca-Cola has transformed its iconic red can to white for the holiday season, producing 94 million polar-hued Cokes for its "Arctic Home" campaign consisting of national TV, digital and print – along with a big in-store push.
The new cans, designed by Turner Duckworth in the US and adapted by Perennial in Canada, which also handled the packaging, were released Nov. 1 and will be available until mid-January in over 15,000 outlets nationally spread across three channels – large format consisting of grocery and drugstores, smaller format convenience stores and food service establishments like restaurants and cinemas. POS materials across all channels were developed by Toronto-based Mars | Philter.
The brand has partnered with the World Wildlife Fund (WWF) to help raise awareness and funds to protect the polar bear's habitat by donating $2 million to WWF by 2016 and matching donations made through iCoke.ca until March 15, 2012, up to $1 million across Canada and the US.
In-store elements and messaging are adapted to the channel and core audience associated with that channel. With mom and teens as the primary shoppers for Coke, the call-to-action will morph from the mom-directed "Coke is turning white for the polar bears" in grocery and family restaurants to the teen-focused "Grab a Coke. Make a difference" in convenience stores and casual dining spots.
As a result of the program, the brand has secured incremental placement in transition zones of most participating grocery stores, between the entrance and the first 30 feet into the store, consisting of a pallet with base wraps and corner displays featuring the call-to-action, as well as tent cards on top of the displays and pole mounts with eye-level signage aimed at moms.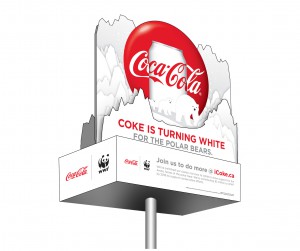 The convenience set-up will include laminate clings on the door, cooler clings and wall placards at the cash.

"We're studying the shopper's journey, so it starts with the entrance of the store, and once inside the store if the shopper goes to the [back] to the cooler, it's communicated there," says Coca-Cola marketing manager Michelle Kanfer. "Because of the excitement from the retailers we would typically have an extra floor display, and with that half palettes and additional communication."

Food service outlets, depending on the type, will house information on menu boards, and digital screens will show an adaptation of the national commercial with creative by Zulu Alpha Kilo and media buy by UM.

"It's a thicker activation [than past programs], says Coca-Cola brand director Michael Samoszewski. "But certainly whenever we look at doing programming we know this shared medium is significantly important and we always want to put the right amount of investment on that."

"We've put a lot of money on the table to make this right and therefore see this as a substantial part of our marketing efforts."