How much is that moving shirt in the window?
Retailers like Starbucks and Ben Sherman are bringing brands to the street through technology.
The art of window dressing may be dead, but a few retailers have resurrected it with a techno twist.
UK-based men's clothing retailer Ben Sherman kicked off its new global retail concept Oct. 22 in Toronto with its first free-standing Canadian store at 734 Queen St. West. The new digs reinvent window shopping by giving passersby a closer look at items they like.
When people press a number on a touch pad affixed to the window, it sends a signal to a pressurized air system, which in turn rotates the selected garment 360 degrees.
UK design agency Brinkworth created the new retail design and worked with UK-based FrozenFish on the window technology. To show off the shirts the brand is famous for and drive people into the store, they needed a dynamic window, says Murray Aitken, associate director, Brinkworth.
"What we want to convey to the customer is a completely immersive experience … even from the street level," Aitken says.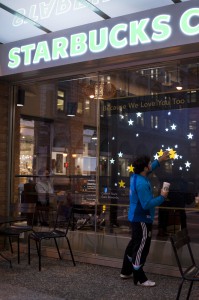 Meanwhile Starbucks Canada introduced its second round of temporary interactive window screens Oct. 4 (the first incorporating the technology were used for the brand's Tazo campaign earlier this year). Check them out if you're near 4 King St. West and 765 Yonge St. in Toronto, or 802 West Hastings St. and 498 Robson St. in Vancouver.

When people touch gold and white stars moving on the window screen, they learn about the benefits of the My Starbucks Rewards (MSR) program, which launched in October and allows people to collect gold stars for rewards.

"Starbucks has highly engaged customers who interact with our brand on a daily basis," says Sharon Smyl, group marketing manager, Starbucks Canada. "This [interactivity] feels like a natural extension of how we can further connect with our customers."

The boards will feature SMR-specific information until mid-November and will flip to holiday messaging until the New Year. The technology was developed by The Media Merchants with coding by Thinkingbox, creative by BBDO and Blast Radius and media by MediaCom.