Mars Canada and Proximity win big at CMAs
A total of 25 Golds were handed out at this year's event, with DDB and Leo Burnett also among the top winners.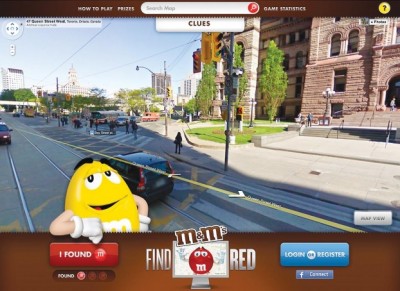 Twenty-five Gold awards were handed out on Friday at the Canadian Marketing Association awards.
Mars Canada, with creative from Proximity Canada (strategy's Digital Agency of the Year), won big this year, with the Best of the Best honour and three Golds in Digital (consumer products), Integrated (consumer products), and Media Innovation (consumer products). Mars and Proximity took consumers to the street – the Google streets – with a 30-day contest inviting people to find the lost red M&M spokes-candy somewhere on the Toronto Google-Street View landscape. Dropping hints over social media channels, the campaign became a worldwide hit, despite being a Canadian-only contest.
James Ready Brewing and the Leo Burnett creative team also took home three Golds: Advertising (consumer product), Direct (consumer product), and Promotion (consumer product). The former was for their "Help us, Help you," campaign, which helped young adult consumers save money for beer, and the latter two for the blank-cap recall, a trade-in program asking consumers to send back mistakenly blank bottle caps.
The Canadian Tourism Commission won top honours in Digital and Media Innovation Gold (consumer services) with creative from DDB Canada. They created real-life twitter walls in cities across the United States, which were updated in real time, and encouraged visits to Canada.
DDB Canada and Toronto Crime Stoppers won two Golds (Advertising (NFP) and Pro Bono) for their Anonymous campaign, which encouraged the public to help unmask criminals.
Subaru Canada, with creative from DDB Canada, won Gold in Advertising (automotive), for their real-world footage and stop-motion animation mash-up commercial, selling the company's pure performance. Newfoundland and Labrador Tourism and Target took home Gold in Advertising (consumer services), for their campaign to sell the province as a rewarding alternative to high-traffic and flashy tourist destinations.  Finally, Boston Pizza, with creative from Taxi, won Gold in Advertising (retail) for their chicken wing connoisseur campaign.
MacLarren McCann and MasterCard won Gold in Digital (financial) for their intern-finding online test, designed to screen candidates for MasterCard's internship program. Telus, with creative from Taxi took home Gold in Digital (NFP) for their breast cancer awareness digital campaign. Just for Laughs and Twist Image won Gold in Digital (retail) for the redesign of the Just for Laughs website.
The Direct Gold winners included: Audi Canada, with creative from BIMM Direct and Digital (automotive), for their luxury car direct mail campaign; Rogers and Rosetta (business products and services), for their boardroom tablecloth; and the Foundation de L'Institut Nazareth et Louis-Braille, with creative from Cossette, (fundraising) for their unique invitations to a fundraising event that had to be held at certain angles to read.
Awards in PR and Promotion were also given, and that evening there were 35 Silver and 37 Bronze trophies handed out across all categories.
Lululemon athletica's CEO Christine Day was named marketer of the year.