Media Experts celebrates XXX
As Canada's oldest indie media agency hits 30, strategy takes a look at what it took to navigate the last three decades in media.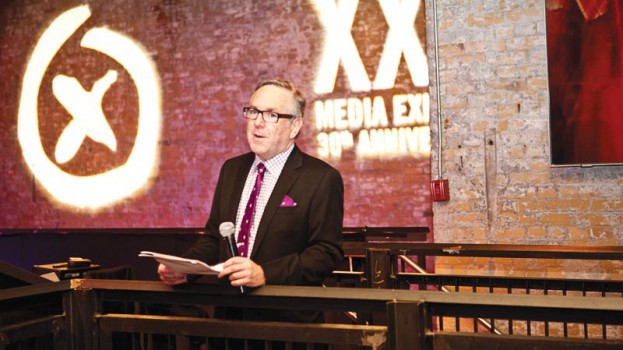 At a late-November soiree in Toronto's Distillery District, industry execs gathered to celebrate the "XXX Anniversary" of Canada's oldest privately owned media agency, Media Experts. As Mark Sherman – the founder and executive chairman who's overseen its growth to 120 staffers, with offices in Montreal, Toronto and Vancouver and annual billings over $300 million – addressed his guests, he described the 30-year journey as one of relationships, determination and the power of a collective where the whole is greater than the sum of its parts.
That's helped the agency stay ahead of the changes in the increasingly transformative, and competitive, Canadian media landscape. Here's a decade-by-decade look at Media Experts' trajectory.

The '80s
While working at CHOM-FM in Montreal, where he started his career, Sherman saw an opportunity. After moving into the sales department, working with clients focused solely on the creative message, he identified a need in terms of specialization and concentration on media and ROI.
"Media represented about 90% of an advertiser's expenditure, yet was only a very small portion of the agency presentation and its overall bandwidth," says Sherman.
He promptly left his job in radio to enter the media-buying business, opening an office of three people in November 1981 in partnership with Media Specialists, a fledgling Toronto-based shop, started by three former employees of Media Buying Services, the first independent media buying company in North America. It was an act of rebellion, says Sherman, immediately labelling the venture as a maverick agency.
"Giving a shit about media was an innovation in the '80s, and that incorporated strategic planning and hard-nosed, passionate negotiation," he says.
Sherman understood the importance of technology in fostering innovation, now a hallmark for the agency, he says. He also came to realize the advantage that tech acumen provided a small firm competing with Goliaths. In 1984 he bought a modem and discovered Compuserve, an online service that provided access to almost instantaneous information to help support customers. The modem also connected the shop to Telmar, allowing it to perform its own reach/frequency runs, receiving results within minutes.
In 1987, when Sherman assumed control of the company after buying out his partners, changing the name to Media Experts, the first thing he did was install Adtraq, an ad management system that had started to be deployed by the country's biggest agencies.  "We knew then that to compete, we'd have to offer all the same tools and more, but bring a different level of passion and client service," he says.
In 1987 the agency's tech focus helped promote CTV affiliate CFCF-12's 6 p.m. News Pulse show by taking advantage of its then-novel modem purchase. Realizing analog sound could be converted into a digital file and sent places in minutes over the telephone line, the agency helped the station turn over a radio promo in less than half an hour that would be aired on all six Montreal English-language radio stations, every 15 minutes until 6 p.m.

The '90s
The '90s saw the big full-service agencies start spinning out their media departments into free-standing media service entities. Many of Media Experts' independent competitors were bought out by big holding companies, but Sherman stayed fast to his vision.
"We're fiercely independent and we believe that is a competitive advantage," says Sherman.
By remaining independent and relatively small, Media Experts got the jump on media agnosticism.
"We always had to find a way of making small investments go further," he says. "We often dealt with advertisers who couldn't afford the price of entry [into TV], so we became adept in all types of media."
Cross-media savvy resulted in efforts like an OOH campaign for CFCF-12 during the early part of the decade. To build awareness with francophone viewers, Media Experts turned Montreal streets into Hollywood's sunset strip by buying every superboard in town. Featuring 20 primetime hits, each was unique.
"It was the biggest superboard buy of its kind as we were using out-of-home as a domination medium instead of a support medium, something quite unusual in those days," says Sherman.
Back then, he explains, superboards and spectaculars were hand-painted, which was why when the painters went on strike, Media Experts' massive billboard buy was in peril. That is, until he quipped that they should be able to use an inkjet printer.
A couple of days later Mediacom (now CBS outdoor) found a giant printer in the U.S. and Media Experts became the first in Canada to use inkjet printing in OOH. It's since become the standard.
The decade also saw Media Experts land some of its largest clients. In 1993, it helped Sega Canada introduce Canadian gamers to the Sega Genesis console, allowing the agency to employ its techno know-how. Media Experts began using Lotus 1-2-3 to devise planning models, enabling forecasting and tracking audience delivery across target groups. It also began using MicroBBM, a new tool at the time, to identify unpublished TV audience skews inside the two- to 11-year-old target.
"Advertising directed towards kids was prohibited in Quebec, so we used this new tool from BBM to isolate programs with high teen and young adult delivery, without ever exceeding the maximum threshold for kid audience."
The practice allowed Media Experts and Sega to establish a strong competitive advantage over Nintendo in Quebec.
Media Experts also executed another first for Sega, promoting sports titles by executing promotions with Montreal Expos and Toronto Argonauts players. They played videogames against fans during pre-game shows, leveraging the full-colour giant screens in Olympic Stadium in Montreal and the Skydome in Toronto. It was the first time those screens had carried video advertising with sound and the first time, anywhere, that a Sega videogame had been played on a giant screen in front of thousands of people. Within its first year, Sega Genesis became the leading videogame console in Canada, says Sherman.
"We would often employ OOH at weight levels disproportionate to conventional wisdom," he says.
That was the launching strategy for Clearnet PCS in Quebec when faced with a competitive environment and a budget dwarfed by competitors. The agency concentrated spending in Montreal, arranging station dominations in all three downtown metro stations and purchasing 75% of the billboards, transit shelters and Omni columns in the city's core and underground. The domination, along with other tactics, helped ensure a successful launch.

The turn of the century 'til now
After the millennium, everything changed. New platforms began popping up, audience habits began changing and the industry model, says Sherman, stood on its head with the increasing prevalence of digital. The media agnostic identity Media Experts developed in the '90s started paying serious dividends.
It was the start of a two-way conversation between advertisers and consumers. "We're only just beginning to understand what that echo is that's coming back off the web and [we're] starting to capture that with social media monitoring," he says.
In 2009 the agency underwent an operational evolution that would help it  master online/offline interplay, dubbed its tradigital approach. It started with the establishment of a robust digital practice, headed by Robert Jenkyn, VP, digital solutions, who joined the agency in March 2006. Tradigital reorganization saw digital people move into traditional roles and vice versa. By continuing to cross-pollinate, Sherman's aim is to create a new breed of media executive.
The agency's digital focus led it to create Xpeto, the first Canadian-built trading desk. It allows the agency to
tap into multiple ad networks for real-time bidding, providing benefits in terms of behavioural and niche targeting and pricing.
In marking the 30-year milestone, Sherman says the proudest moment was Media Experts' collaboration with Toronto-based creative agency Zulu Alpha Kilo on "People for Good," a multi-platform campaign that aimed to inspire good deeds. Doing good, says Sherman, has always been part of the company's DNA, and "People for Good" proves that Media Experts aptitude for innovation doesn't stop with good media.

Milestones

1981    Mike's Submarines and Pantorama are the first clients to sign on.

1982    Jordache Jeans joins the fold.

1984    Le Groupe Aldo comes aboard.

1987    The name is changed to Media Experts.

1993    Sega of Canada hires the agency for Genesis media launch.

1994    Reitmans Canada becomes a client.

1996    The first telecom win is Clearnet's media business. The Toronto office opens.

2000    Telus Consumer Solutions signs on.

2005    WestJet comes aboard as its first airline.

2006    The Vancouver office opens.

2007    Media Experts wins Best Buy and Future Shop's media biz.

2009    A BMW win adds big auto to the client list.

2010    It lands the massive Bell Canada biz.

2011    The agency wins the Virgin Mobile Canada account and Media Silver at strategy's Agency of the Year Awards, while Mark Sherman ties for Media Director of the Year honours.