Éduc'alcool goes big with moderation
The Quebec-based organization has rolled out an extensive multi-platform campaign aimed at getting people to understand their alcohol limits.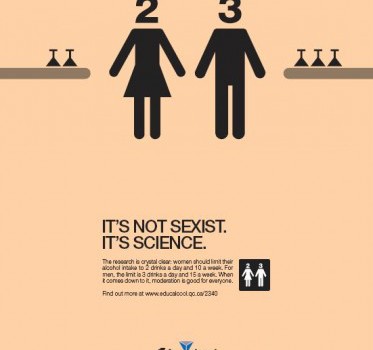 Éduc'alcool, a non-profit organization that looks to prevent excessive drinking through education, has a sticky tagline of "Moderation is Always in Good Taste" and in Quebec, 95% of residents admit to having heard it somewhere before.
While the awareness level is sitting at a good percentage, the organization decided to shift its focus from getting people to recognize its tagline to having them really understand what it means, says Hubert Sacy, director general, Éduc'alcool.
For the next three months, the organization will have ads across a wide array of platforms in Quebec, as a part of its largest and most ambitious campaign yet, he says, adding that the spend was over $1 million for this campaign as opposed to the usual $300,000 for promoting its messaging.
Planned by media agency Challenge, there will be a host of TV spots as well as ads in restobars, cinema, print and online.
The print creative was done by freelancers Benoit Trottier and Jean-Luc Bonin and goes back to basics with a series of images of stick-figure men and women drinking alcohol in moderation. It illustrates the new "2-3-4-0" rule, developed to reveal exactly how many glasses of alcohol each individual should consume per day as well as per week.
For example, the rule says that women should limit their alcohol intake to two glasses a day (no more than 10 per week) and men should limit theirs to three glasses a day (no more than 15 per week). Occasionally, women can have three and men can have four. Everyone should take at least one day each week to have zero alcohol intake.
The "W2-M3" logo was also created, with the number two in place of the women's head and the number three in place of the man's head, to illustrate the daily limit for each gender, and has been placed on all creative material. On the doors of washrooms in some restobars in Quebec, the traditional "men" and "women" signs have been replaced with the same numerical logos.
There are rich media ads placed on sites such as The Gazette and Meteomedia as well as a homepage takeover of sites such as Sympatico.ca.
On the Radio-Canada TV network, pre-roll ads were created with a countdown to the video commencing. The countdown acts as a 30-second educational spot where the numbers are used by the stick figures to illustrate the moderation rule.
To reach a younger demographic, the organization has also created viral videos that cleverly show the number of drinks in a series of break-dancing moves performed by youth. The videos will be seeded online and placed on YouTube.
"This is going to be over the next four to five years. We don't expect to achieve everything we want within the first few months," says Sacy on the goals for the campaign.
"We expect to have at least 25 to 30% [of Quebecers] aware of what [the tagline and logo] is. And that's the easy part, you know, those who quickly catch on and are most interested. We will then build on that in order to reach a level of knowledge and awareness as high as possible."
"This is a behavioral campaign where we're trying to establish a social norm that will become as obvious as, for example, when a car is coming [at you], you know not to cross the street," he adds.