CASSIES Bronze: Sexy comes standard with 2011 Forester
Subaru and DDB bring back the sumos for another quirky campaign.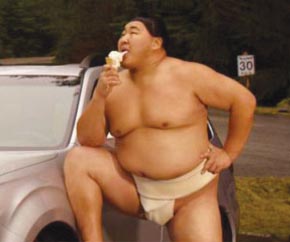 BRONZE: Off to a Good Start • BRONZE: Best Integrated Program
Situation Analysis: Following the highly successful launch of the redesigned 2009 Forester, sales in Canada began to flatten in 2010. For 2011, Forester needed to be relaunched, but it only had minor aesthetic changes.
Strategy & Insight: Despite the success of the 2009 launch, many small SUV intenders weren't aware of Forester's styling and Japanese heritage.
Execution: The success of the 2009 campaign meant that sumos had built up strong equity for a new, sexier Forester. To evolve this, sumos would adorn the hoods of the 2011 Forester to announce that "Sexy Comes Standard." The approach was extended into print, POP, online, social media and PR.
Results: For the six-month campaign period, sales exceeded SCI's target for Forester by 11%. In contrast, Toyota was averaging -18% per month, and Honda and Mazda were both averaging -10%.
Cause & Effect: There was a direct relationship between the campaign and the sales results (details were supplied) while Subaru maintained its premium/full margin price. Distribution and promo activities remained the same.
Credits:
Subaru Canada
VP, product planning & marketing: Ted Lalka; director marketing: Geoff Craig
DDB Canada
SVP, business unit director: Michael Davidson; account supervisor: Peter Brough; account executives: Julia Morris, Scott Barr; manager PR: James Loftus; senior consultant PR: Greg Vallentin; community cultivation: Parker Mason; account executive: Sarah Thornley; SVP director of strategic planning: Tony Johnstone; Co-CDs: Todd Mackie, Denise Rosseto; ACD, Copywriter: Matt Antonello; ACD, AD: Paul Riss; director of broadcast production: Andrew Schulze; digital producer: Cathy Kim; director of print production: Rose-Ella Morrison; account executive: Tanya Foulem