Miele's open Haus at IDS
The appliance brand makes a big splash at the Toronto design show with an exhibit-turned-theatre display.
Judging by the growing influence of design bloggers and niche social networks like Pinterest, in addition to the growth of the traditional design-centric media category – upping the design ante is a big opportunity for brands and agencies. The crowd at the preview of the Interior Design Show (IDS), opening today in Toronto, indicates the growing mass media and grassroots interest.
Miele is one of many brands taking advantage of that, inviting the design-centric media to the launch of The Miele Show Haus, which the team, led by Kelly Lam, VP marketing, created with the help of its AOR Lowe Roche and the Taylor Group. It's the largest booth at the IDS show in Toronto this year, and it's also the first and only two-story theatre on display, as was proudly announced by Miele Canada president Jan Heck and Lam, as they revealed the exhibit and their 2012 launches at the preview evening.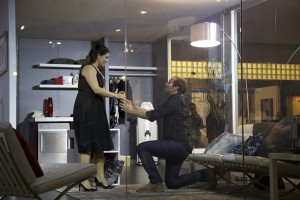 The high-end appliance manufacturer is not only bringing a taste of its showpiece retail store downtown so the designerati needn't trek to Vaughan, at regular intervals during the course of the show it will turn the exhibit into a pop-up theatre, with the Mad Dog Theatre Company  acting out scenes that humorously highlight the brand's uber-sleek products' attributes.
While Miele appliances may not need theatrics to draw a crowd (its cool new laundry devices and built-ins leave everyone from wannabe baristas to oenophiles salivating), that's the role design plays now, providing a key to opening up more interactive, experiential and showstopping – or in this case, show-producing – relationships with consumers. And the funny improv approach to touting features of the new products, like the Miele S8 UniqQ vacuum, unlike some "first for the sake of being first" gimmicks, works well to drum up its unique attributes.
In addition to the team from Lowe Roche, led by CEO Monica Ruffo, agency execs spotted at the IDS preview included Tony Pigott, whose JWT Ethos' BrandAid project has a Vodunuvo installation in the Offsite/Onsite exhibit, and Dom Caruso and Judy John of Leo Burnett, who recently added furniture design to the agency's remit.