WWF rallies grannies to help fight climate change
The organization's second National Sweater Day has grandmothers calling in to remind people to put on a sweater and turn down the heat.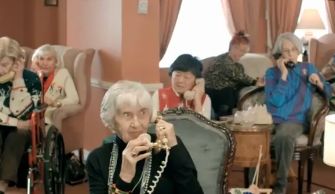 WWF's National Sweater Day falls on Feb. 9 this year and grannies of all shapes and sizes are standing by to remind Canadians to slip into a sweater and turn down the heat.

The idea is to have Canadians come together to take action against climate change. It's an effortless request. Turn down the thermostat and cozy up in a sweater to save energy. WWF's National Sweater Day website states that "if every Canadian lowered the heat a few degrees this winter, it'd be like taking 300,000 vehicles off the road."

Toronto agency John St. took the creative reigns on this year's campaign, with Media Profile working closely with the WWF to create buzz, and Loblaw coming on as a sponsor for the second year in a row.

The second sweater round is more upscale, with the agency having created a dedicated microsite for the cause. On the site, there is a series of spots that show grannies sitting in a call centre reaching out to Canadians to remind them of the sweater event.

And anybody can to talk to a granny. Visitors who register themselves as a participant can choose what day (either Feb. 6, 7 or 8 ) and time they would like to receive a reminder phone call from a granny at the call centre.

Participants can also bring the event to their office or school by downloading promotional material from the website and distributing it to classmates and colleagues.

Mavis Huntley, director of digital innovation, John St., says that she has high hopes for this year's initiative.

The inaugural sweater day did not pan out as well as WWF had hoped and Huntley pins down the reason to be that there just wasn't enough awareness of the cause leading up to the day. Last year, over 2,000 people participated on Facebook and the organization hopes to get more involved this time around, she says.

"People just weren't prepared. They hadn't worn a sweater, couldn't get office groups together and they hadn't turned down the heat," she says. "So, that was one of our learnings, make sure people were aware of the day leading up to it."

"The number one thing that people are going to love about this is that it's not a recorded message, its actual grandmothers calling," she adds.

Media Profile will be doing their bit to create hype with media releases as well as bring bloggers together to talk about the cause on the WWF website. The agency will also organize for the grannies to meet with on-air personalities and take calls on various shows, such as Breakfast Television, says Huntley.