Nike brings local hockey to life
The sports brand has created a touring experiential hockey truck with its own personality.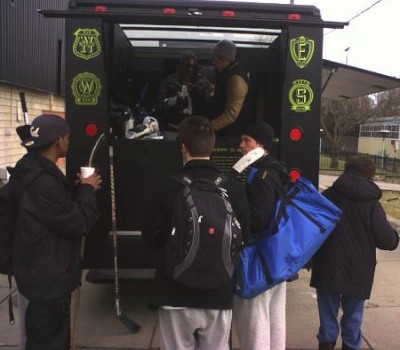 Dazzling experiential executions have proven to be a popular tactic, with brands taking to the streets with shiny treats to make an impression. But what if an event actually had its own personality?
Sports brand Nike has created a SWAT-styled vehicle named "Clutch the Truck" to help spread happiness to those who brave the winter cold to play hockey.
While the truck was used as a means to transport the brand's ambassadors to a shinny rink in Toronto earlier this month, it also happened to be stocked with all that was needed for a quintessential neighbourhood hockey game. This included, but was not limited to, hot chocolate, tools to sharpen skates, Toronto Argonauts cheerleaders, an opera singer to sing the national anthem as well as players from the Montreal Canadiens and Toronto Maple Leafs to coach the local teams.
Nike wanted Clutch to have its own personality, which is why the brand enlisted agency Blast Radius to create a Tumblr page to house the truck's on-the-road sightings and musings for consumers to follow along.
Jason Theodor, senior creative director, Blast Radius, says that the page allows the brand to create fast and light content (in the form of photos and videos) on the spot, that is easily distributed to its fans. The truck also has a dedicated Twitter page, and a behind-the-scenes YouTube video was developed by Vancouver agency Academy, to drive to the Tumblr site.
"[Nike] is a premium brand, but it's accessible to everybody," says Theodor. "This allows us to experiment with different voices, and Clutch is one of those voices that it is not at all intimidating. It delivers a premium brand, but in a really fun and unexpected experience with the brand."
"Clutch can talk about it in a different way that's not marketing speak. It's the spirit of the brand and I think that is what makes it more accessible," he adds.
Theodor explains that while the brand's message might be hockey right now, next season it will change, as will Clutch, he says, adding that the plan is "to have [the truck] remain a flexible entity that will bring different things each season. The intention is to have it re-skinned and re-modified to bring exciting and interesting experiences locally throughout the year."