A big decade for Mini
As the car co celebrates its 10th anniversary in Canada, strategy reflects on the brand building that got it here.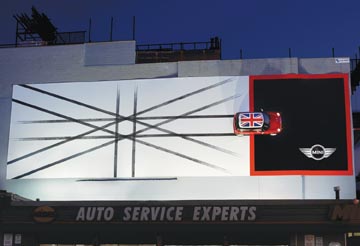 Before there was a single Mini on the road in Canada, there was one in Taxi's boardroom. The agency had to remove the front window just to get it in there. Lance Martin, ECD of Taxi 2 – who was on the pitch and has been working on the account ever since – remembers the stir it caused.

"That was the first time anyone could see a redesigned Mini in Canada so we had a lot of people coming in off the street saying, 'Is it okay if I just go and look at that Mini?'"

When it finally launched on March 22, 2002, it was impossible not to look at the Mini. In addition to typical ad opps such as transit and print, the agency pulled stunts nobody had seen before, like hanging a full-sized Mini from the outside of a building in Toronto, trailed by tire tracks in the shape of a Union Jack.

"That stopped people in the street," says Matt Kelly, ad strategy expert and managing director, Level5 Strategic Brand Advisors, when asked for his thoughts on the unusual OOH execution. "As a new entrant, they needed to capture people's attention and their hearts and minds, and I think they did that."

"That [stunt] sort of set the tone as a little gutsy, mischievous, shit-disturber brand," agrees Martin.
What followed was a decade's worth of made-you-look advertising that has taken gold at Cannes, ADCC, the One Show, the Clios and the Obies, and been picked up by Mini brand teams internationally.

Mini Canada celebrates its 10th birthday this month, and the milestone comes hot on the heels of another one. According to Adam Shaver, director, Mini Canada, last year was the first time the niche brand sold over 5,000 units in Canada. With 5,155 cars sold, it was a 15% increase over 2010.

So, how has Mini kept things fresh, gutsy and shit-disturbing throughout the decade? And what's next as Mini expands on its core model with new offerings like the two-seat Coupe (launched in late 2011), the soft-topped Roadster (launched in February) and last year's SUV crossover Countryman? Strategy takes a look back, and a look ahead.

Small team, giant ideas
"Back in the early days it was a guerrilla team," Martin says. Mini Canada had a staff of two – national manager Rob Van Shaik and special projects manager Michel Matte – to launch the brand in the Great White North.

"[We'd] sit around the boardroom, not just trying to come up with advertising solutions, but also product solutions – deciding what kind of cars to launch, what colours and even how many to order," Martin says. "Taxi, in a way, acted as a branch of their marketing department instead of just their creative department."

While Mini Canada has grown from a two-man operation to a team of nine, Shaver says familiar faces remain on both the brand team and the agency side.

"That's one of our strengths and one of the reasons we've been able to maintain our position in the market over the past 10 years," he says. Shaver took his own leadership role at Mini in mid-2011 but has been with BMW since 2002, while Van Shaik and Matte have moved on from Mini but remain part of BMW Group Canada.

It's not cute, it's manly
Standing out from the crowd was never going to be a challenge for Mini. With its compact body, wide-eyed headlights and smiling grill, it simply doesn't look like other cars. And, of course, who could forget its U.K. pedigree as an iconic vehicle of the 1960s? Shortly before the new model launched, a panel of automotive experts voted Mini the second most influential car of the 20th century.

But would the Mini be manly enough for modern guys?

"[A] big challenge was making sure that the Mini brand came across in a masculine way and became perceived as a male vehicle – cool, cheeky, exciting – as opposed to cute and lovable," Shaver says, suggesting that while women will buy a car they perceive as masculine, men won't buy a car they perceive as feminine.

So, the Mini was only released as a manual-transmission model at first, Shaver says, while the creative also went a long way to reach men. Timer boards installed above men's room urinals in 2007 invited guys to compare their speed with that of the Mini, with ad copy chiding, "You're a little slow out of the gate, aren't you?"

The Mini big-bang theory
As a niche brand, it's been critical for Mini to make a big splash without spending too much. "We don't have a huge budget, so we try to get more attention by doing things that haven't been done before," Martin says.

One of his favourite executions was "Let there be Xenon" in 2007. To promote the new model and its more powerful bi-Xenon headlights, Taxi once again mounted a car to the side of a building, adding a new twist. Its headlights were pointed toward the sky, with 2,500-watt lights shooting up to the lower levels of the stratosphere. The light show was so eye-catching that the agency eventually had to take it down because it was distracting pilots.

Since often the budget is limited to one piece, Martin says they try to come up with stunts so unexpected that they generate buzz in blogs and international magazines. In 2003, Mini capitalized on the Toronto Auto Show by placing a car in a cage in the parking lot across the street, with a sign that read "Please do not feed, tease, or annoy the Mini" – a stunt that was later recreated in B.C., the U.S. and parts of Europe.

Sometimes the stunts were considerably cheaper, like "Hands Up," which saw a new convertible Mini driven around Toronto with fake arms emerging from the driver's side, simulating the way people instinctively put their arms up while riding a rollercoaster.

"We put that whole stunt together for about $67," says Martin, who built the prototype in his garage. The idea was shown off at a global brand summit and ended up being used in seven countries. "I've got all this footage of people in Tokyo and different parts of the world doing the stunt we did here in Toronto," he says.

Rooting for the underdog
Although Mini is a BMW brand, it's positioned itself as the market's scrappy underdog. When it first launched, Volkswagen was running its "Drivers wanted" campaign, so Mini bought a billboard next to VW's that read "Real drivers wanted." It took a swipe at another premium brand with its "Parks faster than a Ferrari" ads that same year.

But what generated the most talk value was probably its 2003 "Cops hide here" campaign, which saw billboards placed beside notorious speed traps with giant arrows pointing to police hiding spots.

"At the time, the radio stations went crazy with it – Mini fighting for the little guy, trying to bust the things that are slowing it down," Martin says. "People in Canada see Mini as a little car looking to have some fun and get into trouble."

Embracing the f-word: fun
"Mini is a brand that's fun, irreverent and bold, and that brand strategy is echoed in all of its communication touchpoints," says Kelly. His agency, Level5, compares brands by plotting them on a map of different attributes, and as far as Kelly is concerned, Mini falls squarely in the fun zone, sharing many characteristics with consumer electronics favourite Apple.

"Apple is a brand that's entertaining, fun, desirable and interesting, and it fires on all the right emotions in terms of love and devotion, but it's in this fun zone," he says.

The car brand's focus on customization and unique add-ons – from paint colours and racing stripes to branded luggage that fits perfectly in the trunk – also falls in line with Apple's individualistic messaging, Kelly says. Not to mention the smartphone integration system built into the front display of newer models, with accompanying Mini Connected App, which gives easy access to social media.

"People often personify themselves by the car they drive, just like they personify themselves by the smartphone they carry," he says. "I think the successful people within the automotive category have figured out that it's this wonderful combination of rational and emotional, with emotional probably trumping rational."

For a pocket-sized performance vehicle, fun is an apt descriptor, and Mini's advertising has always driven this message home. A 2004 magazine ad featured a paper model of a Mini that could be folded and glued together to become a 3D replica. Another magazine execution in 2007 turned a business reply card into a faux ramp, so it looked like the Mini in the print ad would drive right off the page and into the air.

The road ahead
Since the redesigned Mini's launch in 2002, the small car market has exploded, with competitors ranging from the next-generation Smart Fortwo to Toyota's micro-subcompact Scion iQ.

"The world is becoming ever more mini," Shaver says, quoting a colleague. But this is both a blessing and a curse for the brand.

"People are moving towards smaller cars, but a lot of the brands introducing those smaller cars are also looking at the way that Mini marketed [itself] and appear to be trying to follow a very similar route," he says. "As a result, it becomes increasingly difficult to get our voice out there."

Maintaining a consistent tone – in other words, staying true to the brand's spunky, shit-disturber image – is one way Shaver thinks Mini will maintain its growth despite the increased competition. But it's going to be a delicate balance, as Mini expands its offerings to attract new buyers.

When the five-door, SUV-style Mini Countryman launched last year, it presented a way to target buyers who'd grown out of their Minis with the arrival of a baby or dog, as well as folks who'd never considered buying one before. It also marked the first time Mini Canada strongly targeted families, partnering with parenting site YummyMummyClub.ca to showcase the SUV's features in a real-life family setting.

But as the Toronto Star asked at the time, "How much larger can a Mini get before it stops being a Mini?" And how will such additions affect the brand's identity?

"As soon as you stray from the core of your brand into other things, you risk diluting that core," says brand advisor Kelly. "I think it's very important, as they try to reach new markets or follow their users as they get older, [not to] stray from the core DNA. Maybe you just launch a new brand to do that instead."

Although it's a big leap from urinal advertising to YummyMummyClub.ca, Shaver says Mini's historically spunky voice won't be toned down too much.

"For us now," says Martin, "it's going to be telling a slightly different story, but maintaining the Mini brand and making sure it still feels like the Mini family."

While some ads for the Countryman have referenced family reunions or joked that "Now you don't have to sell the kids," others used lines like "Add inches to your cockpit" and "Bigger, for your pleasure." So while Mini may be growing up, it certainly isn't maturing.