Editorial: Insta-interest
Through platforms like Instagram, social is going from macro to micro, writes strategy executive editor Mary Maddever.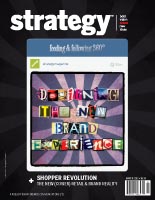 For our annual design issue we looked at some of the new ways brands are designing experiences, specifically beyond physical parameters. A common thread is a digital presence, and harnessing social. So I've spent the last month diving into the niches of social media, and I see a ton of potential for brands in the image-centric realm of Instagram and Pinterest (read our media feature on the subject here).

Instagram is for iPhone photo buffs, and everyone interested in looking at pics on their phone. Pinterest is more design- and female-skewing, and is the more obvious brand platform with more direct e-comm linkage. But since that's been covered a lot recently, I'm focusing on the less obvious choice here: Instagram.

The best explanation I've found to sum up Instagram is the following verbatim user profile: "I will heart the amazing, the real, the cute and the funny. I will follow the interesting and the authentic. Strangers are cool, fuck your facebook." – thejsan.

It's fascinating. This is not a community of just family, buddies and co-workers. It's strangers who find and follow others who also like pictures of architecture or nature, fashion or cute dogs (lots of cute dogs). Language is not a barrier.

The fact that it's not the closed community of Facebook appeals – less pressure to respond, etc. My son, who first introduced me to Insta, sold it by saying it made more sense than Twitter because it was easier to find interesting stuff.

I've discovered brands on Instagram that I never knew existed, such as Madura, a global home decor brand that posts Parisian scenes and pics of their new textiles. They have 40 stores worldwide, over 1,000 photos posted, over 2,000 followers, and are following over 5,000. This is good Insta math, and Instagrammers like them.

Many big brands don't take advantage of what appeals to Instagram users – such as following. Gap, with over 3,000 followers, follows six (including their CMO) and Adidas Originals with over 35,000 followers is following 35. Many bigger brands seem to post weekdays 9-5, and not as frequently as their smaller competitors.

Meanwhile, a ton of bloggers and smaller brands are posting like fiends, some with impressive followings. EmbellishClothing has over 12,000 followers – equal to the Nike fanbase – and follows over 40,000.

Why should you care? Well, first off, Pinterest has been cited by Shareaholic as beating YouTube, Reddit, Google Plus, LinkedIn and MySpace for total referral traffic in January with Twitter ahead of Pinterest by a mere .01%.

Both are on impressive growth trajectories. And Lululemon, which is getting close to racking up 4,000 followers, says the Insta posts feed their other social platforms, like Tumblr, Twitter and Facebook.

These apps are a chance to be part of a bigger (yet smaller) world, where you can see your brand through a new lens. I've discovered lots of users whose pics are brand-centric. I searched #Campbellsoup and found a collection of 32 images thusly hashtagged. It's an opportunity to show an interest in consumers, run relevant contests and "like" things.

If brands need to shift gears from mass to micro, from push to pull, to listen rather than shout – then the Pinterests and Instagrams of the world are fertile ground for learning, feedback and connection.

Cheers, mm
Mary Maddever, exec editor, strategy, Media in Canada and stimulant
P.S. please follow strategymagazine on Instagram – we follow back!