Shopper Marketing Forum: Day two recap
Day two of the conference delivered insights into ROI metrics, loyalty programs and battling private label competition.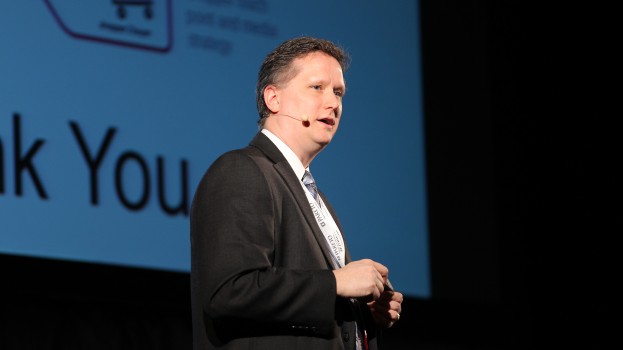 By Megan Haynes and Jonathan Paul

The following is a recap of some of the sessions for the second and final day of the Shopper Marketing Forum, held in Toronto at the Westin Harbour Castle. For a recap of the first day, click here.

What's working? Retail's new ROI metrics

The first session, "What's working?" led by James Sorensen, senior VP, TNS (pictured), examined the dearth of reliable ROI measurement, and reminded shopper marketers that the key to successfully reaching consumers is to stay relevant. It doesn't matter how good the promotion or product is, it must be relevant to that shopper when he or she needs or wants it.

This means stepping away from the trend of price promotions and discounts, which Sorensen says isn't as effective as people think. While price reductions do drive up the number of units sold, the overall basket price goes down.

"It's easy to get people to buy your product if you pay them to do it," he says.

Further, he adds, the majority of products bought on sale tend to be things people would have bought anyways. Fifty percent of products bought on sale were done so by chance – the shoppers didn't recognize them as being on sale in the first place.

One of the biggest challenges for marketers is simply to get the shoppers' attention.

"It's our job to frame up the items they want or should want," he says, noting that customers only read an average of eight words in store and tend to ignore most products in aisles, so if marketers want to engage the customer, they need to look at ways of reaching the shopper in a place and way that is relevant to them. For example, shoppers are more likely to respond to symbols – so consider using arrows to drive shoppers to products – and stop trying to force customers down aisles, rather bring the products to the perimeter and front entrance for more engagement.

Finally, Sorensen called on the industry to work together on developing a better ROI measurement; otherwise all the initiatives will be for naught.

Collaboration

When working on a retailer/manufacturer partnership, both parties need to find out what will be mutually beneficial to them, but more importantly look for what will be beneficial to consumers, says Monique Moran, shopper marketing manager, Johnson & Johnson. She took the stage with Kironmoy Datta, marketing director, Shoppers Drug Mart, for the second presentation of the day.

Working on a hunch that people didn't know how to dispose of expired medication, the Johnson & Johnson team surveyed the public and learned that Canadians were sitting on more than $40 million of expired over-the-counter medication.

Using this insight, the team developed a strategy to encourage Canadians to trade in their old medication for new J&J products at their nearest Shoppers Drug Mart. The campaign was so successful it is now entering its third year.

Datta says the helpful thing was to lay out the opportunities, objectives and challenges of both parties and find ways of addressing mutual opportunities and objectives, and overcoming individual challenges.

The whole nine yards

April Carlisle, leader of the North American shopper marketing centre of excellence at P&G, and Charlie Anderson, CEO North America, Saatchi and Saatchi X, took to the stage just before lunch to examine communicating with consumers along the path to purchase.

Some key takeaways from the presentation include the need for a thorough examination of the path to purchase process. Each product will have a unique PTP, and marketers need to understand each touch-point and ensure each point has the right amount and right type of communication, says Carlisle.

Further communication at the product level needs to be more effective. Carlisle, explaining the difference between a claim (a way of getting through barriers of purchase and encourage consumers to choose your brand, i.e. "Done in 10 minutes") and a selling line (a way of encouraging recall of your brand, i.e. "Breath of freshness"), warned marketers not to mix the two, because it's the claim that will encourage people to buy the brand.

Anderson added that brands should tailor their creative strategy for the stores the product will be found in. He gave the example of Lay's all-natural chips, which hit shelves in Walmart (with a focus on value) and Kroger (with a focus on simplicity) differently.

The pair wrapped things up emphasizing that marketers should not underestimate the power of an execution in store, with packaging as the last line of defense when trying to break through the shopper's choice barriers.

Winning over the new consumer: loyalty wars

The afternoon session began with a presentation by David Ciancio, SVP, head of international client leadership, Dunnhumby UK, about loyalty and winning over the "new consumer." He said that we're all getting loyalty wrong.

Ciancio said that a different way of thinking is required if loyalty is to be effectively instilled. He outlined a few ways that loyalty can be approached differently.

Firstly, loyalty program builders should approach it incrementally, encouraging one more purchase every trip, one more trip to the store, and so on. The place to start, he said, is with understanding how customers are different, taking stock of their varying behaviours and matching them up with data. Thinking about profitability, he pointed out, is anti-loyalty thinking.

Next Ciancio said that the loyalty ladder needs to be re-envisioned. Loyalty isn't about the program, but rather the approach: understanding customers and the path to purchase; creating the right communications in the right place at the right time; and taking actions in-store that show changes in approach involving a good understanding of adjacencies. Finally, Ciancio said that loyalty is about putting the best customers first and that personalization is key, particularly in this digital age.

"It's about managing, growing and 'taking care of' in ways that are relevant to your best customers," said Ciancio.

The community & content strategy of retailers

Next, a panel consisting of Tony Chapman, partner & CEO, Capital C; Byron Ells, senior director media and digital, Shoppers Drug Mart; Rosie Riolino-Serpa, AVP digital, Canadian Tire Corporation; and moderated by Will Novosedlik, VP brand, Idea Couture, tackled questions around community and content strategies at retail.

They began by addressing how data is handled and how digital can support integration. Riolino-Serpa noted that there should be consistency in data, achieved by taking a holistic approach to digital deployment, having it go across all customer touch points. Chapman added that retailers should differentiate their social experiences. All three agreed that leveraging digital to foster in-store engagement is important.

With regard to the threat of smartphones arming consumers with "pricing power," all the panelists agreed that it was a reality, but Ells noted that it presents a tremendous opportunity for retailers to connect outside the store from within the store, particularly if focusing on utility. Chapman added that mobile content and experiences should be customized based on buyer behavior, noting that tech is a great way to enhance helping customers/consumers get to where they need to go and differentiating from competitors. His advice to retailers: to frame themselves as a concierge, an authority, a purveyor of convenience rather than focusing on price.

Frenemies in the land of shopper marketing

Rich Butwinick, president/founder, MarketingLab, and Lynn Neal, NA retail strategy leader, Procter & Gamble, were up next presenting strategies on how brands can compete to survive in an emerging private label landscape.

The pair outlined three proven approaches that manufacturers can take to survive against the private label onslaught. The first was exhibiting brand control, particularly keeping in mind the power of claims, in order to establish brand value. They noted that while superiority or performance-based claims can be effective, emotion-based claims are particularly powerful.

The second approach revolved around collaboration. Butwinick and Neal pontificated on the bonuses of things made by, or exclusively for, retailers, for example, a dedicated cleaning aisle driven by three branded label products.

Innovation was the pair's third approach and works best for brands that have innovation ingrained as part of their culture. They focused on product and package, commercial and merchandise innovation, the example for the latter being Swiffer's change to eliminate its previous box package in favour of a minimal cardboard casing that more effectively shows off the product.

Integer examines the mindset of Canadian shoppers

Marcus Evans, managing director, Integer Canada, delivered one of SMF 12's final addresses on his company's assessment of how the Canadian shopper thinks.

He noted the recent trend of Canadian shoppers exhibiting frugal buying behavior, and general consumer uncertainty. Despite the fact that the Canadian economy is in relatively good shape, the perception is that Canadian shoppers still have a lot they need to be concerned about. He described the Canadian shopping mentality as "cautiously cautious," but he pointed out that shopping still matters to Canadians.

Evans then divided the shopping experience into three different segments: pre-tail, retail and post-tail, noting that Canadian shoppers love to plan their shopping. For example, 24% spend time researching what they want to buy. Twenty-eight per cent compare prices before visiting the store and 51% always use a list. He added that if a brand can get on that list the shopper is highly likely to stay with that brand.

Evans said that marketers should focus on reaching Canadian shoppers at the pre-tail phase, as that's when and how people choose the brands they will purchase. He noted later, however, that despite a frugal mindset, Canadians are open to impulse purchases, which are driven by deals and great offers.

Evans wrapped up the presentation by indicating Canadians fall into one of two shopping buckets: mission-based planners and inspiration-seeking explorers, most falling into the former category. He left the audience with a few things to keep in mind: engage at pre-tail as much as possible; offers are important, but are not the be all end all; mobile is key; social experimentation is key; and CRM will be vital.