SXSW blog: Driving better brand experiences
Tribal DDB's Nikolas Badminton on what agencies and clients can learn from the tech innovations of Formula 1 and Toyota.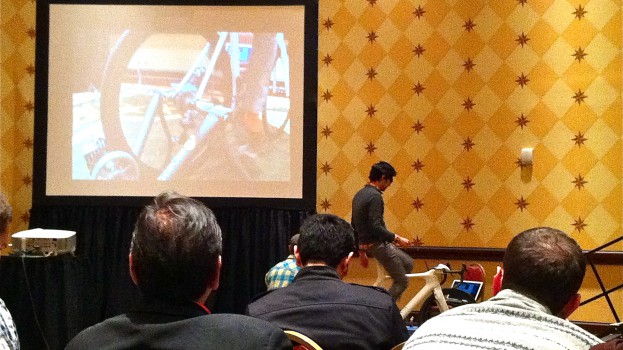 The DDB team is blogging for strategy from SXSW Interactive in Austin, Texas. For more on the team's experiences at the festival, visit DDBdoesAustin.com.

By Nikolas Badminton, director of digital strategy, Tribal DDB

SXSW 2012, day one. Following the registration this morning a number of us from the DDB team went our separate ways (after first getting BBQ at Ironworks) to find insight and inspirations from some of the amazing sessions that are being held here. There are a number of subjects that are bubbling to the top as trends that will continue to create buzz throughout the festival.

Today, we wanted to go beyond the web and into how technology innovation can really impact and inspire the way we live and also plan as agencies and clients together for consumer experiences. Two sessions were of great interest; Formula 1: Driving Global Technology & Innovation and This Will Blow Your Mind: The Prius-Inspired Bike. Both looked at how engineering, advertising and consumer experience mashed together to create innovative solutions.

The Formula 1 session talked about the F1 course, Circuit of the Americas, in Austin, TX. This course is the first custom designed and built track in the US whose design was considered with the fan experience at the center of thinking. It's a 3.4-mile road course with 20 turns and great elevation changes with great visibility for all, and digital touch points will be available throughout. They have also been taking advice and inspiration from the racing teams. The UK-based car manufacturer and F1 team sponsor McLaren has been working with them as an advisory on course design, and they have in turn been advising on how this course will improve their cars. Most importantly, they have both contributed insight into how their technological developments can have application in the real world and also to space programs. This diverse ecosystem of R&D benefits everyone, especially the fan, by delivering a fast, accessible experience that has application in the real world as well as on the F1 scene.

The idea we took from this was that both agencies and clients should think about how fan consideration + product + services + innovation + bravery will deliver amazing, new solutions that will blow fans away through access to technology and interactions with brand experiences.

Building on that thought, This Will Blow Your Mind showcased an inspired approach to celebrating the 10-year anniversary of the Prius car by Toyota. A web project called Prius Projects was established to be a social media incubator where the idea of "what if the Prius was a bike?" was born. Take a look at this video that shows the project:

Saatchi & Saatchi LA started looking at partners in the bike industry and in human-computer interaction and then took it to Toyota, which felt that this was pretty "out there" but they kept an open mind and it melded well with their philosophy of pushing boundaries in the car industry.

What's inspirational about this is that this project is a result of collaboration between bike designers, human-interaction engineers, a world-leading ad agency and a leader in the automotive space. The result is true innovation on many fronts in design, awareness, technology integration and the use of innovative human-computer-product interaction.

Clients, brands and agencies can learn a simple lesson from these two examples. We need to approach advertising and communications in a different way every time we want to engage consumers. Creating a brief to celebrate or promote a brand needs to start with an insight and an appetite to push boundaries by engaging partners that allow us to think in different ways. For clients this means diverting media dollars towards inspired technology and partnership ideas that extend the client brand and lead to incredible buzz, earned media and platforms for discussion and interaction.