Dentyne showcases the elements of attraction
The Kraft-owned brand has launched a TV and OOH campaign to support a conversation it started last month through social media.
What began as a Dentyne-initiated debate on the elements of attraction has now transformed into a full-scale TV and OOH campaign with the hopes of further engaging millennials.
The national campaign, with the tagline, "When you find what you like, make chemistry," has commercials and outdoor material created by Sid Lee and placed by Jungle Media, says Pam Clarkson, senior brand manager, Dentyne.
Last month, during the week of Valentine's Day, the Kraft-owned brand ignited a conversation around "elements of attraction."  A street level marketing campaign was created by Strategic Objectives and Rocket XL to get people to "like" the brand's Facebook page and vote for whether or not they believe kissing in public is acceptable. The brand continued the discussion by asking fans which particular traits they believe make a person attractive.
Clarkson explains that the brand wanted to follow through with a larger campaign that would drive more consumers to participate in that conversation, so wild posters, transit shelter ads and TV spots direct them to the Facebook page through a creative play on the periodic table of elements.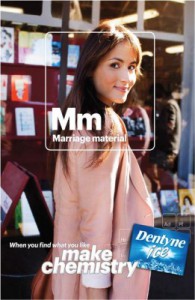 "This [phase of the campaign] has more legs and really helps with the engagement," she says. "The goal is to propel the brand and continue to build equity in the market, drive consumers and really build Dentyne into a strong brand in the gum category."

Carly Murchison, media supervisor, Jungle Media goes on to say that the media co also looked for ways to generate awareness in places where there is a high propensity for young adults to visit, which led to the placement of ads, such as mirror decals, in restobars.

"[Restobars are] also the perfect contextual environment for the message, [allowing] us to amplify the element creative in a really fun way," she adds. "We looked for tactics to efficiently showcase multiple pieces of creative, for example, station posters and wild postings, in order to reflect the breadth of the campaign and feature a variety of elements of attraction."