IGA recruits new spokestoons to animate its aisles
The Quebec-based grocer deploys a new 3D toon-augmented brand identity on TV and in store.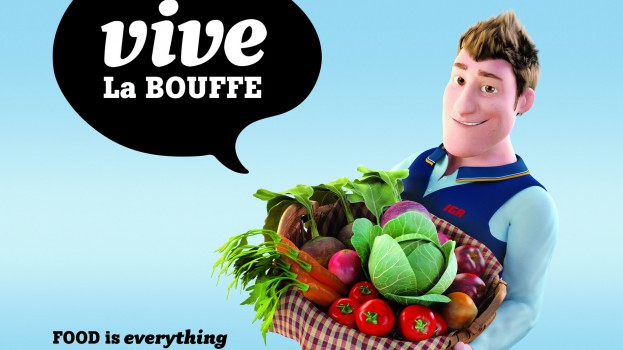 IGA's fanciful 3D characters have trickled into in-store promotions, with deployment of giant signs in each of the IGAs across Quebec, says Guy Terroux, VP marketing for Sobeys' IGA business unit.

This is phase two of the campaign, with TV spots launching a year ago. The characters, created by Sid Lee, will be melded into the brand's identity, with promotions shifting from traditional lifestyle advertising to an animated milieu of friendly toonfolk resembling the Pixar characters from Up and Ratatouille.

While the in-store deployments are currently limited to seasonal and departmental signage, Terroux says he hopes to eventually get the characters as close to the product as possible through point of purchase signage.

"This isn't a six-month promotion, or even a one-year promotion. This is a couple of years promotion," he says. The long lead time will allow IGA to play with placement in store and on products, as it moves toward incorporating the 3D animation into more of its brand look. The versatility of animation means endless possibilities for use, he says, but in the meantime the brand will be moving forward slowly.

"This whole exercise was a brand campaign, not a promotional campaign," says Marie Amiot, account director, Sid Lee.

The discussion around a new advertising identity began more than a year ago as IGA struggled to get out of the mass of indistinguishable advertising in both the grocery and greater market – which largely focused on the mom at home or in store. IGA is the only grocer in Canada currently using cartoons to spread the message, effectively differentiating the chain from its competitors. Since the TV spots began a year ago, brand recognition has increased beyond expectations, says Terroux.

On a more practical level, the cartoons allow the brand to adapt the commercials to French and English much easier than live-action versions, and allow the brand to have a bit more fun in storytelling. The current on-air spot has a man floating around the store lured by the smell of fresh bread, while the Christmas spot had Santa snapping his fingers and turning a little boy into presents.