Skittles touches the untouchable
The evolution of last year's award-winning campaign includes a new cast of mythical characters.
Skittles has released the latest incarnation of its award-winning YouTube videos with the "Touch the Untouchable" campaign, which rolled out yesterday, with creative from BBDO and media by MediaCom.
Much like the original "Touch the Rainbow" campaign, which began last March, the latest YouTube videos encourage viewers to physically touch their computer screens in what Chris Joakim, ACD, BBDO calls the company's "non-technological touch technology."
Last year's videos swept the award circuit and doubled sales for Skittles, so Joakim and co-ACD Mike Donaghey knew they'd have to do something bigger to top that success.
Inspired by the idea of touching something that shouldn't be touched, the pair devised the evolution of the campaign to include mythical creatures, such as a cyclops doctor, werewolf baby and a fairytale princess.
"We literally let you touch things you can't touch in reality," says Joakim.
The campaign will roll out as a destination advertisement. The company has a blogger seeding program and minimal mass media buy. The purpose, Donaghey says, is that the discovery of the videos is half the fun.
"As soon as the ad is the destination, it becomes much more powerful," he says. "A million people seeing your ad on TV is nothing compared to a million people choosing to actively view and interact with your ad and then share it with a friend."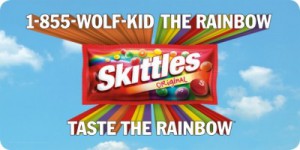 To encourage people to visit the channel again, the pair focused on creating more robust content around the videos, which will be supported by billboards inviting people to call the rainbow. For example, a billboard features the number 1-855-WOLF-KID, which reaches a were-baby toy store where a sarcastic attendant encourages callers to visit the YouTube site.

There will also be an Easter component to the campaign, which will go live on April 2. This will include new content hidden in digital Easter eggs (hidden links) playing off the theme of the video itself.

"The idea was to give more than just videos," says Joakim. "Some [of the Easter eggs] are videos, some are websites, some are not. So it's different types of experiences as opposed to just five more videos."