Rolling Rock keeps it simple
The beer brand's first Canadian campaign, developed by Red Urban in Toronto, champions uncomplicated bar behaviour.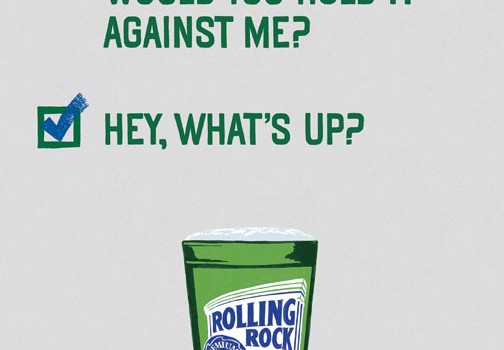 If simplicity is the ultimate sophistication, then Rolling Rock is one refined brew. The American brand, managed in Canada by Labatt, has released a poster campaign championing uncomplicated bar behaviour.

The effort, which targets urban males, is Rolling Rock's first Canadian campaign. It was developed by Red Urban in Toronto and differs from its advertising south of the border in that it's not about evoking its "Born Small Town" roots, says Steve Carli, president, Red Urban.

"We talked to consumers in Canada and they told us that behind the idea there are some rich ideals, but the tagline of 'Born Small Town' felt very American and didn't resonate," says Mike Bascom, national marketing manager, Alexander Keith's, Rolling Rock and domestic specialty portfolio, Labatt Breweries.

However, the Canadian campaign does indirectly channel small-town living. "We took the essence of the [Born Small Town] promise, but dramatized it in a way that didn't connote any of the potential negative associations – in essence, we uncomplicated the idea," says Bascom.

"We wanted to connect with consumers who, at times, are looking for a simpler path to having a good time," says Carli. "We want Rolling Rock to be part of a less complicated night out."

Where some beer ads feature guys meeting women using complex methods like, say, jetpacking into a party held at a top secret location, one piece of Rolling Rock creative offers the phrase "nice to meet you" as a simple alternative to the over-the-top pick-up line "Are you from Tennessee? Because you're the only ten I see."

Red Urban worked with Labatt, Mosaic and UM to develop the creative, which is appearing on transit ads, OOH, on premise, as well as in resto ads and wild postings, in Toronto, Vancouver and Montreal.