Next Media Stars: Devyn Perry makes TD front page news on Family Day
The Starcom strategy supervisor worked with the Toronto Star to put together a customized ad campaign linked to editorial.
Starcom strategy supervisor Devyn Perry recently wrapped a first for TD: a customized ad campaign playing off newspaper editorial – never an easy feat to pull off.
Perry says the key behind the Family Day RSP campaign for TD Bank was getting people to link the holiday-mode freedom of being able to do whatever they wanted with the carefree lifestyle of their future retirement. That is, if they start planning now.
Launched as a one-off campaign on Family Day, during the RSP-conscious month of February, the effort aimed to reach adults aged 45 to 64 in a new way. Perry worked with the Toronto Star to feature a retirement-focused story on the cover of each section, and to place a customized TD Bank ad, with creative by Draftfcb, next to the editorial tailored to the topic.
"We wanted to get people thinking that if they plan ahead there will be a time in the near future that they will be able to do what they want," says Perry. "But to realize that future is dependent on them preparing for it. Family Day is a day where they have the luxury of not going to work, so it was important to get them while they were in that mindframe."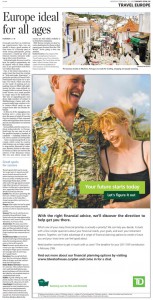 The day's newspaper was led with a gatefold ad on the cover asking, "Do you want to make every day Family Day when you retire? Let's figure it out."

It was followed by more specific thought-starters: the Arts section ad copy read "How will you express yourself in retirement?" accompanied by a photo of paintbrushes, while Sports had a golf tee with the line, "What passions will you pursue in retirement?"

"I talked with the Toronto Star about how creating the retirement-focused content was a great opportunity for the readers, and how we wouldn't just be throwing ads all over the paper," says Perry. "Retirement in January and February is top of mind for everyone. So we weren't asking them to print editorial that their readers weren't going to enjoy."

Perry, who has been with Starcom for two years and primarily works on the TD account, says print was the platform of choice because of the older target, and the Toronto Star was chosen for its Ontario penetration.

This is a second career path for Perry, who joined Starcom from the ad program at Humber College after switching media gears rather radically – she left the world of film after working as an associate director in her hometown of Vancouver.

More work from TD Bank is coming in the next few months, promises Perry, who can't disclose much more due to the sector's highly competitive nature.

Jump to:
Next Media Stars intro
Bailey Wilson recruits parents to share the joy with Johnson's
Laura Ritchie brings Evian to life in Toronto and Montreal