The Canadian Olympic Committee shows off our athletes
The committee has unveiled a mutli-platform campaign that demonstrates the journey athletes take when preparing for the Games.
The Canadian Olympic Committee unveiled its "Give Your Everything/Tout Donner" campaign with the aim of making household names out of some of the country's Olympic athletes, rolling it out at media events in Toronto and Montreal yesterday with 80 days to go until the London 2012 Olympic Games.
Proximity did the creative for the  TV, print, digital, radio and out-of-home blitz that was planned by OMD.
The creative demonstrates the uphill journey that athletes encounter when preparing for the games, and will shroud major Canadian cities over the next 15 weeks as a part of the Olympic team's largest, most integrated campaign to date.
The campaign includes a slew of outdoor ads, with over 800 faces placed on buses and buildings provided by Astral Media and Pattison, as well as in major airports across the country.
In English Canada, print ads will be seen in the Globe and Mail as well as in Postmedia publications, and in Quebec ads will be placed in La Presse. Online ads will be seen on MSN.ca and AOL Canada properties. Radio ads will air on Radio-Canada and Astral Radio stations.
The campaign's "Relentless" TV spot aired for the first time last night during Hockey Night in Canada on CBC and will also air on CHEK-TV in Vancouver, CHCH in Hamilton, CJNT-TV in Quebec and during the MLSE's NBA Playoff broadcasts. The spot shows the determination and hours that go into each athlete's craft, demonstrating what it means to "Give Your Everything" ("Tout Donner").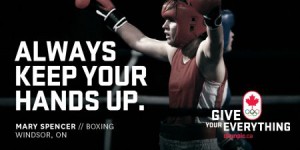 Derek Kent, chief marketing officer, Canadian Olympic Committee, told the crowd at yesterday's Toronto event that the committee found many Canadians to be unacquainted with the names and faces of the country's Olympic athletes. The campaign is meant to connect viewers to those who will be representing the country in London, and show their journey through digital shorts, placed on Olympic.ca, with documentation of their rigorous training regime leading up to the games.

"The emotional connection exists squarely between the Canadian Olympic team as a brand in which athletes sit at the core. For that relationship to grow, we need to foster a very personal relationship with our athletes and our Canadian populace," says Christopher R. Overholt, CEO, Canadian Olympic Committee. He added that conversations with more than 50 athletes and their coaches led to the inspiration behind the campaign.

Top photo (left to right): Mark Tewksbury (chef de mission, Canadian Olympic Team) Adam van Koeverden (Kayak), Valerie Welsh, Elise Marcotte and Marie-Pier Boudreau-Gagnon (Synchro Canada), Brian Price (Rowing), Will Crowthers (Rowing) and Henry Lu (director of the digital shorts).