Michelob Ultra targets health-conscious drinkers
The new light beer has arrived in Canada with a marathon-style sampling station and multi-platform campaign.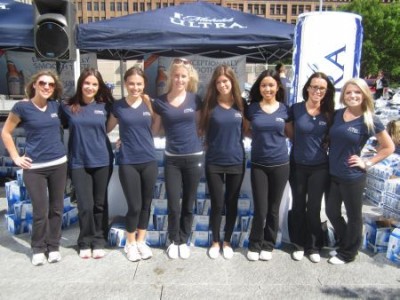 You wouldn't think that beer and marathons have much in common.

But Michelob is positioning its new light Ultra beer as a healthy alternative for active men in their 20s and 30s and, over the past two days, has been handing out samples of its 95-calorie beer at stations mimicking marathon-style finish lines to thirsty crowds in Toronto and Ottawa.

The Anheuser-Busch brand launched the beer last month in Canada, and has been communicating its arrival with a TV, OOH and online campaign with creative by Grip Limited and planned by UM. The experiential two-day sampling tour was designed and assembled by Mosaic.

A representative for Michelob says that, in line with its efforts to reach an active community, the new light beer (which is brewed by Labatt) has come on as the official partner of the Toronto Yonge Street Run, Mississauga Marathon and the Ottawa Marathon, and will be executing more experiential activations at the events to educate runners about the beer.

Michelob Ultra was first introduced to the US market in 2002, and according to a press release, the brand decided to haul the beer north of the border in search of Canada's fast-growing segment of light beer drinkers.