Agropur asks if you've seen them
The dairy cooperative is promoting with a new OOH and print campaign in Toronto and Vancouver.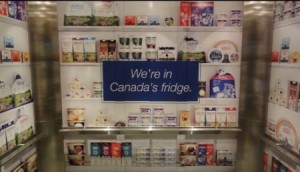 Despite being nearly three-quarters of a century old, many are unaware of what Agropur is. If you're one of those in the dark, it's a Canadian dairy cooperative and it's looking for some recognition from consumers in Toronto and Vancouver.

The parent company of brands such as Natrel, Québon, OKA, Sealtest and Island Farms set out early this month with an OOH, print and sampling campaign that asks the question "Ever noticed us?" and states, "We're Canada's largest dairy cooperative."

Creative and media were handled in-house, with the company injecting the two markets with prominent outdoor advertising to get people to put two-and-two together, Natacha Gouveia, senior advisor of public relations and communications, Agropur.

"People don't necessarily make the [connection] between all of the products," says Gouveia, adding that since awareness of Agropur and its products is higher in Quebec than in Toronto and Vancouver, hurling out a mass consumer campaign would lay the groundwork for future movement in those markets. "We really wanted to go with a tailored and specific campaign for English Canada, and not take something from Quebec and just pitch it to them."

The Toronto Skywalk's walls are dominated by images of the campaign material and inside 25 elevators in office buildings in the city centre, the brand has wrapped creative that looks like a refrigerator and shelves that showcase many of its dairy products. Vancouver will also receive the elevator creative, and in addition, the company has had several of the city's super buses wrapped in cow print creative with images of the dairy products dotted across the inner lining of the commuter vehicles.

Gouveia says that the company has also landed a three-year deal with the Gardiner Expressway to imprint the Agropur logo in the grass next to brands such as FedEx and TD Waterhouse. The campaign also includes print ads in the Globe and Mail and the Atlantic Business, she adds, and will offer sampling of products in different areas of the cities.

She notes that next year will be the company's 75th birthday and that plans for a bigger and bolder campaign are underway. But for now, the markets will see the present campaign creative until the end of May and again during the month of September.