Pampers puts Canadian moms in Olympic spirit
Pampers is using patriotism to build excitement around its brand in Canada as the Summer Olympics approach.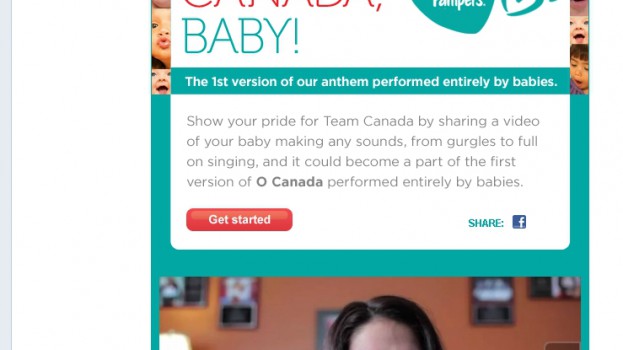 Pampers, of all brands, recognizes there is no better way to engage mothers than by focusing on their babies.
The famous diaper brand is basing its first Olympic partnership on that emotional bond and inviting Canadian moms to upload video of their babies singing the national anthem to its Facebook page.
"We wanted to engage moms in our Olympic partnership," said Pampers Canada spokesperson Joyce Law. "And getting babies singing is a great way to engage moms."
The campaign's target audience is first and foremost mothers, although Law concedes it is basically aimed at anyone who's responsible for changing a diaper. It builds on Procter & Gamble's "Thank You Mom" campaign that features Canadian athletes and their mothers.
Pampers drew inspiration for the idea from Canadian Olympic bronze medalist Priscilla Lopes-Schliep. Despite giving birth to her daughter Nataliya a mere eight months ago, Lopes-Schliep will participate in qualifiers this June for a place at the Olympics athletics competition.
Lopes-Schliep is an athlete mothers would immediately identify with, Law said.
The "O Canada, Baby!" campaign will culminate with a video compilation of babies coast-to-coast singing parts of the national anthem.
Video samples of the singing babies are now available on the Pampers Canada Facebook page. Snippets of the final video will pop up on Facebook as the Games approach and will be showcased at public events across the country on Canada Day.
The campaign is exclusive to Facebook and Pampers.ca but the brand will use Twitter to create social media buzz around the video.  The final video will be revealed during the Olympic Games.
New York-based StrawberryFrog is handling the digital campaign for Pampers in Canada.