BBDO and Lowe Roche win Bronze Lions at Cannes
Skittles' "Touch the Untouchable" and O.B.'s "Personal Apology" take home the first Canadian hardware in Promo and PR, respectively.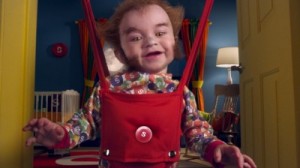 By Val Maloney and Megan Haynes

Two Canadian agencies have picked up hardware on the first night of the 2012 Cannes Lions Festival of Creativity. Toronto-based BBDO and Lowe Roche both walked away with Bronzes for Skittles and Johnson & Johnson work, respectively.

Promo &  Activation

The "Touch the Untouchable" campaign picked up a Bronze Promo and Activation Lion in the product and services food category. The campaign was an extension of last year's "Touch the Rainbow," which swept the awards circuit. Much like the original, the latest YouTube videos encouraged viewers to physically touch their computer screens in what Chris Joakim, ACD, BBDO, calls the company's "non-technological touch technology."

Inspired by the idea of touching something that shouldn't be touched, Joakim and co-ACD Mike Donaghey devised the evolution of the campaign to include mythical creatures, such as a cyclops doctor, werewolf baby and a fairytale princess.

"We literally let you touch things you can't touch in reality," says Joakim.

The videos later introduced digital easter eggs, and viewers who were able to spot the hidden gems were treated to extra content, including an un-sexy princess photo album, an ad for Skittles as a cure-all medication, or a children's story book centred around a werewolf baby.

The spots were complemented by billboards that invited passersby to call in a number to further interact with the video characters. For example, a billboard featured the number 1-855-WOLF-KID conntected to a werewolf baby toy store where a sarcastic attendant encouraged callers to visit the YouTube site.

As of today (June 18), Leo Burnett, Canada's only other shortlist entry in Promo, still has six more opportunities to take home a Lion in Outdoor and Mobile. Canadian Judge Brian Sheppard, EVP and co-ECD, Saatchi & Saatchi, says the lack of Canadian campaigns in the Promo category was disappointing, and added he had pulled hard for Ikea and Leo, explaining at points to the jury the importance of Quebec's Moving Day. He further explained that the judging process broke the jury into groups of five, and circled only some of the entrants to each group, meaning he was only able to see two of the 273 Canadian campaigns.

PR

Lowe Roche picked up the second Bronze Lion in PR for its "A Personal Apology (just for you)" work for O.B. tampons, a brand of Johnson & Johnson Canada.

The Lowe Roche project was created after consumers were unable to find the brand on store shelves for a period of time. The brand responded with a tailored video sent to O.B.'s database of about 65,000 consumers. The ladies, typically aged 18 to 35, could write in their name and then watch a personalized music video, featuring a studly musician who sings to them directly.

PR entries at Cannes were up this year, the fourth year the category has been a part of the festival. Overall there were 1,130 entries, up from 819 last year. Canada submitted 27 entries this year, up from three in 2011.

Grand Prix winners

Crispin Porter & Bogusky Boulder took home the Grand Prix win in Promo for its work with Amex. It also won the Grand Prix for Direct, a category with no Canadian shortlisted entries. The "Small business gets its official day" campaign was a promotional and PR push to create a shopping day dedicated to small business after Black Friday in the U.S. The campaign resulted in an official day passed by the U.S. congress and supported by president Barack Obama. It was pushed out over social media, offering small business a digital tool kit to create self-promotional material, a political movement, and a consumer campaign encouraging people to shop small.

"There are no more monologues and no more consumers out there. It's about time we deleted this idea of people with wallets," says Direct jury president, Gideon Amichay, former CCO, Shalmor Avnon Amichay/Y&R Interactive, Isreal. "I think our Grand Prix [Small Business Day] is an example of that. It's a true game changer."

Gail Heimann, PR Lions jury president says the jury set out to award work that first and foremost had a unbelievable jaw-dropping idea, had well-described impact and strategy, and lastly had a purpose behind the project.

The Grand Prix winner for PR, JWT for Banco Popular De Puerto Rico did all three, says Heimann, noting this is the first Grand Prix win for the country. The winning project took the country's most popular salsa hit, "No Hago Más Ná" by El Gran Combo and had the band rewrite the song so it promoted working hard rather than doing nothing, as it had originally talked about. Banco Popular's success depends on the economy doing well, so the goal of the campaign was to reverse the country's high unemployment rate.

Watch for Cannes photos and updates on Instagram and Twitter (@StrategyOnline), and contribute to coverage by posting photos and comments with the hashtag #strategyatcannes.