Canada picks up 30 shortlist mentions
Today's Media, Mobile, Press and Outdoor shortlist mentions bring Canada's chances at Lions to 33 in total.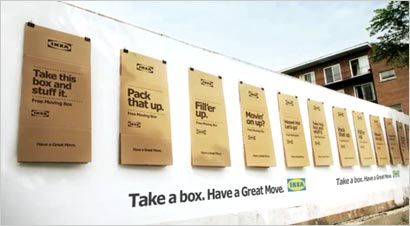 Canadian agencies started off the second day in Cannes in a big way, earning 30 spots on the Media, Press, Outdoor and Mobile shortlists. The only list out Monday which didn't include a Canadian agency was Creative Effectiveness, which had four entries from Canada.

Red Urban picked up two shortlist mentions in Media, for its "Volkswagen Art Heist" in Best use of Ambient: Small Scale and Cars and Automotive Services for its "The Beetle: Juiced Up" spot. Overall, Canada brought in eight Media shortlist mentions.

Jungle Media picked up one nod for its work on the "Ikea Moving Day" (pictured) campaign in the Best Localised Campaign category. Leo Burnett also picked up one for the project under Best use of Special Events. The campaign has also been nominated in the Promo category.

OMD Canada picked up a mention in Best use of Audio for its "McTraffic" spot; Starcom earned a nod in Best use of Print for its Sears Optical – Blurring the Lines ad for Luxottica: Sears Optical; Lg2 got shortlisted in Best use of Outdoor for its Quebec City Magic Festival Magic Hat ad; and DDB Canada is up for a Lion in Best use of Ambient Media: Large Scale for its Sensor Boards ad for BC Hydro.

Canada is also up for 13 Outdoor Lions, with Leo Burnett getting four mentions for its Raising the Roof campaign in the Fundraising category.
Also getting shortlisted multiple times in Outdoor is Lg2, with three mentions and BBDO Toronto with two.

Lg2 got shortlisted three times for its work for Sears Optical in the Retail Stores category, while BBDO Toronto got mentions for its Canadian Paralympic Committee "Unstoppable" ad and its Mercedes-Benz "Blur" ad.

Cossette Vancouver is up for a Lion for its McDonald's Canada reflective billboard; Rethink Vancouver is nominated for its Oil Poster for Dogwood Initiative; Lowe Roche is up for a Lion for its Contagion ad for Warner Brothers Canada; and DDB Canada got a mention for its Sensor Boards for BC Hydro.

Canada is up for four Press Lions, with Lg2 again getting multiple nods with two shortlist mentions for its ads for Sears Optical.

BBDO picked up another shortlist mention for its Canadian Paralympic Committee "Unstoppable" spot and DDB Canada/Vancouver is shortlisted for its BC Hydro Sensor Boards ad.

Canadian agencies are also up for five Mobile Lions, with Cundari nabbing four mentions for its Mobile "Pain Squad" App for the Hospital for Sick Children. Blast Radius Vancouver is nominated for its "Choose your Flight" interface for Jordan, a division of Nike.

Today's shortlist mentions brings Canada's chances at Cannes Lions up to 33. Check out strategy's June issue Cannes Picks story where Contagion, the SickKids Mobile "Pain Squad" app and the Canadian Paralympic Committee's "Unstoppable" spots are all predicted to win.

Check back later today for the results from Promo, where Leo Burnett and BBDO are nominated and PR, where Lowe Roche is shortlisted for a Lion.

Watch for Cannes photos and updates on Instagram and Twitter (@StrategyOnline), and contribute to coverage by posting photos and comments with the hashtag #strategyatcannes.