Vancouver Aquarium puts penguins in a tree
A billboard on Granville Island sits camouflaged amongst trees as part of the aquarium's campaign for its new feathered friends.
They bellow out mule-like sounds, hence the affectionately given name of the Jackass penguin. And they certainly stand out from the indigenous birds that can sometimes go unnoticed in the Pacific Northwest region. Vancouver Aquarium has adopted a set of these conspicuous fowls and is using their differentiation as a hook to let both locals and tourists know that "There's a new bird in town."
Operating as a non-profit, the aquatic attraction is without deep pockets, which means its recent campaign is limited in scope, but by no means size. The aquarium worked with Taylor Made Media to place a single billboard in a high-traffic spot on Granville Island. The Taxi-created board blends into the environment where a penguin perches on an artificial tree amongst a cluster of robin birds, and its branch looking to almost buckle under its weight.
"There is a lot of wildlife in the [area], it almost becomes common place," says Matt Bielby, creative director.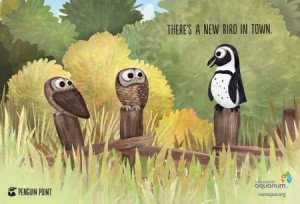 "We thought it would be interesting to show a new bird in town?and make that juxtaposition between the indigenous birds and the penguin."

The campaign extends to TV with a 10-second spot airing only on CTV, during both daytime and primetime programming. Bielby explains that the commercial is meant to drive attendance just as much from local residents as those from outside the Vancouver area, giving them a new reason to visit the aquarium even if they have done so before.

The aquarium is reaching out to local families, with parents around the age range of 35 and 45, by placing print ads in newspaper dailies with similar animated creative, he says. Also, a few radio spots are airing on local stations and an interactive Facebook initiative most recently came to an end. The social media component involved asking consumers to submit name suggestions for each of the penguins, with over 400 people taking part and supporting their proposal with short poems, photos and videos, adds Bielby.