Walmart spins a virtual web for Spider-Man
The retailer is bringing its flyers and in-store merchandise for the new superhero movie to life with the roll-out of an augmented reality app.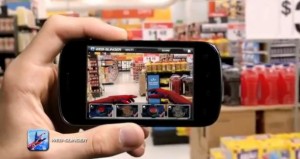 Walmart has taken a detour from the normal retail partnership for its work with Sony Pictures Home Entertainment and Marvel Entertainment's for the launch of The Amazing Spider-Man. It has created an augmented reality app that serves to compliment in-store merchandising.
"Web-Slinger" was created with kids and their parents in mind by Nova Scotia-based agency Ad-Dispatch and is being rolled out for use in over 4,000 Canadian and U.S. stores.
Lately, Walmart has been working hard to expand into all areas of digital (having made its first foray onto Facebook), and the natural thought for this execution was to incorporate multiple touch points to bring both the at-home and in-store shopping experience to life, Zach James, director of category marketing, Walmart Canada.
"One of the really important things here is that we want to be able to provide a fantastic experience for our customers wherever we're interacting with them, whether that be online, in-store or a combination of the two," he says, with the retailer's marketing manager Jeff Tate further explaining that the app can be used on Walmart's weekly flyer as well as on its store décor.
The animated spider-hero comes to life when the user scans the flyer ad for the new movie merchandise and then, when inside the retailer, the app can be used on signage hidden in different aisles, adds Tate. The game component, called Webshooter, allows users to shoot virtual webs at a villain in the store and by scanning Spider-Man signage, points are received to help them progress to a higher level.
To create excitement and conversation for the app, Ad-Dispatch also produced and placed a 30-second spot, airing prior to the start of the new Spider-Man movie (which premiered July 3), in cinemas across English Canada. More buzz is being created through the retailer's Facebook and Twitter accounts as well as on its website.
"We're really looking at every opportunity to bring new innovation to the market and this really fits well with who we are at Walmart," adds James. "We want to be a destination for kids and families. [And] this is one arm of that strategy."