As part of its promotion of the new Molson Coors resealable bottle sold in four and eight packs, Coors Light launched a cross-Canada OOH and digital campaign today, with creative from Draftfcb.
The campaign will run until September 9, and is supported by TV spots, which launched at the end of June, and an in-store campaign rolling out now across Quebec and prairie grocery and convenience retailers (who sell the product in store).
The entire creative focuses on the heroism of the new bottle design, says Darren Quinton, marketing manager, Coors Light, with a focus on creating a grandiose look and feel to the bottles themselves, which have wide mouths and screw tops, allowing the bottles to be resealed whenever.
The campaign will target Coors Light main demo of 18/19 year olds (depending on legal drinking age) to early 30s. The new bottle innovation, sold in packs on fours and eights, is highly portable and convenient, and Quinton says this will appeal to the urban drinkers, who prefer more portable and smaller packaging (versus the rural and suburban drinker who prefer larger formats, such as case of 24), as well as people on the go, such as campers and beach-goers.
The digital component includes a Facebook app which brings a 3D bottle to life on the screen, inviting the user to "tour" the bottle, rolling over the image with his or her mouse. In-store displays, developed-in house at Molson, will include permanent and temporary corrugated displays as well as large scale replicas of the bottle. The entire campaign will also be supported by a fold-out trailer patio that will tour Canada throughout the summer, dishing out the new beer bottle at events in Alberta, Quebec and the Maritimes.
"This is such a big new innovation for us, so we want to make sure it gets in front of the most consumers as possible," says Quinton.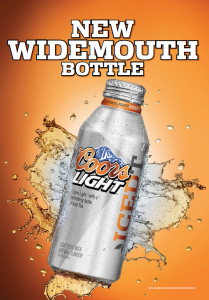 The new bottle was originally rolled out in the U.S., and most recently brought to Canada with a launch in late June of Molson's new bottle production line. While Coors Light is the first Molson brand promoted in the new bottle, it will soon release Coors Light Ice Tea and Molson Canadian in the new format, says Quinton.