Best Buy's innovative back-to-school campaign
The retailer is tapping real innovators to target the university-bound crowd.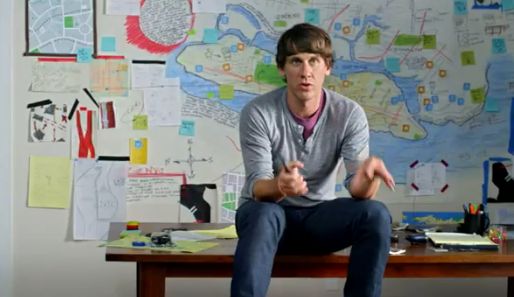 Best Buy is getting innovative with it's back-to-school campaign this year. The retailer is featuring real people who have had innovative ideas – some known "dorm room innovators," like the founder of Foursquare Dennis Crowley, and some unknown "future innovators," like a pair of students who invented a power-generating soccer ball – and the technology that helped them make their big idea a reality. The tagline is, "When the technology's right, anything can happen."

Targeting both parents and students, the campaign, with creative from CP+B in the U.S., in collaboration with the Canadian arm of the agency, profiles a different real innovator in each TV spot. The insight behind the campaign is based on research the brand conducted around how students feel entering university – namely that it's a time of uncertainty in terms of social and academic acceptance, and also in terms of what is happening in the world, such as financial and employment insecurity.

"We know there's a lot of mixed emotions but we also know that we're in a really interesting time," says Aliya Kara, director of marketing at Best Buy Canada. "If you think about these young CEOs who have invented things like Instagram and Facebook, it's a new time when you've got billionaires in their 20s. What we want to do with this campaign is tap into the potential that parents see in their kids and that kids see in themselves. And the aim of the campaign is, at this time filled with uncertainty, to reinforce that anything is possible."

The campaign, with media by Media Experts, will live primarily on TV across the country (with French creative in Quebec) and be supported online. The TV buy will be different this year for the retailer, says Kara, with more of a focus on specialty channels like Discovery, HGTV and TSN, to reflect the fact that Canadians are consuming more specialty in general, and especially in the summer. It will also appear on conventional channels such as CTV, Citytv and Global.

Long-form versions of the TV spots will be available on YouTube, going in-depth with the stories of the innovators. There will also be a YouTube takeover and pre-roll ads, as well as a social media strategy that involves giving out Best Buy gift cards to people who engage in conversation about innovation, using a designated Best Buy hashtag. The gift card giveaway will not be promoted, but Kara expects it will spread via word of mouth.

Kara says this is the first time a campaign in Canada has used real people in the creative.