Samsung Canada cleans some Tough Mudders
To promote its PowerFoam technology, the company set up a group-sized washing machine to clean participants at the event this weekend.
Samsung Canada partnered with Tough Mudder, the 16-kilometre obstacle course designed by the British Special Forces, to clean up the approximately 15,000 participants at its first-ever Ontario event at Mount St. Louis Moonstone last weekend.
The electronics company took on the task of cleaning up the dirty athletes after they had run the course by setting up a group-sized washing machine which showcased its PowerFoam technology, says Andrew Barrett, VP marketing of Canada, Samsung Electronics. Creative for the campaign was done by Cheil, with media by Starcom. Activation at the event was managed by North Strategic and Match Marketing.
Called the Samsung PowerFoam Challenge, the human-sized washer was proposed as a way to showcase the technology (which injects air into soap similar to technology used in snow-making machines at ski resorts) in a different way, says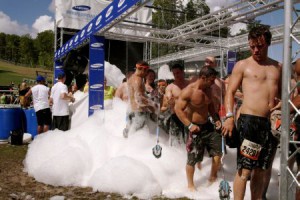 Barrett.
"The idea of 'different clean, different technology' became the strategic underpinning for the launch," he says. "We wanted an activation that brought the idea of a different type of dirty and different type of clean to life. Tough Mudder jumped on our radar through someone at the agency participating in the event who said it was exactly what we are looking for."
Footage gathered at the event will be used in an online spot launching in the coming days and a TV spot coming this fall, says Barrett.
"This activation couldn't be more different than anything we have ever done," he says. "The brand promoted in a very traditional way with in-store flyers and was very much channel-focused. We are now becoming more activation-focused and more socially involved in the promotion of the appliance business."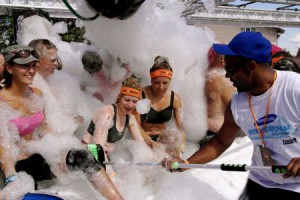 Barrett says the reason they are launching such a dramatically different campaign now is both to showcase the uniqueness of the PowerFoam technology and because the company's appliance division has matured to the point where it can afford to be more creative with its promotions.

Samsung Canada also used its cameras to capture teams before and after completing the course, both at the event at Mount St. Louis Moonstone and earlier this year at the Tough Mudder event in Whistler, B.C.