Best Buy Canada's bold plan to stay #1
Angela Scardillo, VP marketing, says the Canadian arm of the electronics retailer has a plan to fend off increasingly heavy online competition and stay ahead of the curve.
For Best Buy Canada, offence is the best defence. The B.C.-based electronics retail giant, which also owns Future Shop and has more than 200 locations between the two brands, isn't waiting around for competition – namely in the form of online retailers – to heat up in Canada before defending its postition as number one. Instead, it has a plan of attack that includes a Price Beat guarantee, the introduction of a new store format, and expansion into new product categories that Angela Scardillo, VP marketing, hopes will protect against the retailer suffering the same fate as its American counterpart.
In contrast to Canadian strength, with increases in net profit (up 19%) and revenue last year, Best Buy in the U.S. announced a $1.23 billion (U.S.) loss in the last fiscal year, and the closure of 50 stores. This has been mainly blamed on Amazon's entry into consumer electronics and the lack of state taxes on goods bought through Amazon in the U.S. because it doesn't have brick-and-mortar locations, says Scardillo.
"For all we know, that could happen in Canada," she says. "So we want to be ahead of the curve…We're still number one [Future Shop] and number three [Best Buy] in terms of our e-comm retail sites, but that doesn't mean we can sit on our laurels. We recognize that we need to keep up with demand, and customers want to shop in different channels, so we need to be omni-channel."
One way the retailer is taking action is through a new Price Beat guarantee. Best Buy Canada already has a Lowest Price guarantee, which promises consumers it will match any lower advertised price. This summer, the retailer extended it to the online realm, claiming it will match any price offered by another Canadian online retailer. This is meant to eliminate consumers using Best Buy or Future Shop as showrooms and then going online to get the item at a cheaper price. In fact, the websites are now a showroom for Best Buy, says president and COO Mike Pratt.
"Showrooming is a completely price-based concept," he says. "We believe that our web pure play competitors are actually our showroom because when you take away price, they don't have any other advantage."
The Price Beat guarantee is being communicated via owned and earned media (with creative done internally), namely flyers, in-store, online, e-newsletter, PR and through store associates.
"We're putting more tools, like smartphones and tablets, in the hands of our blue shirts [sales reps] and product experts to give them easy access [to product info]," says Scardillo. "So are we afraid of [increased online competition]? No. But we're also not disregarding it. We want to make sure that we're aggressive against it, and we think that we are, especially in Canada."
Best Buy is also experimenting with smaller footprint stores to stay ahead of the curve. In October, two pilot locations (one in North Vancouver and one in Brockville, ON.) will open, with 5,000 sq. ft. of retail space (the typical Best Buy is 32,000 sq. ft., while Future Shop is 26,000 on average).
"It's a growth strategy for us," says Scardillo. "We know more customers are using digital, not only to do research but to purchase, and if we want to grow and get into smaller markets where they don't have Future Shops and Best Buys, it affords us the ability to open a smaller store with a smaller physical selection."
However, Scardillo notes that the entire Best Buy product selection will be available, in digital form, at the smaller stores. The plan is to have tablets in each product aisle where customers can flip through and see options in that category, then order right there.
"It's a new way to shop," she says. "We understand we need to change our operating model for this and we need to train customers."
Best Buy also bolstered its product offering beyond consumer electronics, and in some cases, way beyond. You knew you could buy a laptop at Best Buy, but did you know you could also buy a bed? Over the past year, the retailer has expanded into a number of categories including home décor, health and fitness products and even pet supplies.
Scardillo says that the reasoning behind the non-electronic offerings is three-pronged – first, it's about what its vendors are also selling (such as a maker of laptop cases also making luggage); second is what the customer is asking for; and third is about what people are generally buying online.
The expanded assortment is available online only, and promoted through Best Buy's channels, including digital signage at in-store
pick-up areas.
Nearly 14,000 SKUs have been added to the Best Buy product offering and more than 2,000 to Future Shop, with the selection growing each month.
While it may seem like a disconnect for consumers to order doggy sweaters and vitamins from a place typically associated with electronics, Scardillo says it's only netted positive results.
"We received some research back from consumer insights and there are some categories that people feel very closely connected to, such as luggage or furniture, [and there's a] natural link to it," she says. "Those are the ones we are marketing. And then some are neutral, but there's not many that people feel negatively about."
With these new initiatives, Best Buy Canada hopes to not only keep up, but thrive in a retail world that is changing at an increasingly fast pace – five years ago, tablets weren't even on the radar, Scardillo notes.
"We know customers are more in control, we know that they're more [present] in the digital landscape," she says. "We're doing [these things] to win in that area knowing that these are the macro trends, but the reality is, I don't know what's going to happen in five years within the technology field. We do know that we need to be nimble and we need to be able to react quickly."
Back to school goes digital and social
Technology may be changing fast, but one thing will always remain the same – September means back to school. Always an important season for Best Buy and Future Shop, each year the brands can be counted on to deliver big student-focused pushes. This year, both brands upped the focus on digital, with campaigns that include plenty of online video and social media on top of the tried-and-true mass channels like print and TV.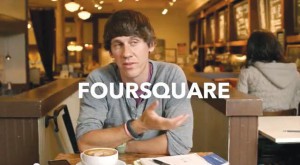 Best Buy's back-to-school theme this year is innovation. The retailer is featuring real people who have had innovative ideas – some known "dorm room innovators," like the founder of Foursquare Dennis Crowley, and some unknown "future innovators," like a pair of students who invented a power-generating soccer ball – and the technology that helped make their big ideas a reality. The tagline is, "When the technology's right, anything can happen."
Targeting both parents and students, the campaign, with creative from CP+B in the U.S., in collaboration with the Canadian arm of the agency, profiles a different innovator in each TV spot. The insight behind the campaign is based on research the brand conducted around how students feel entering university – namely that it's a time of uncertainty in terms of social and academic acceptance, and also in terms of what is happening in the world, such as financial and employment insecurity.
"We know there's a lot of mixed emotions, but we also know that we're in a really interesting time," says Aliya Kara, director of marketing, Best Buy Canada. "If you think about these young CEOs who have invented things like Instagram and Facebook, it's a new time when you've got billionaires in their 20s. We want to tap into the potential that parents see in their kids and that kids see in themselves. The aim of the campaign is to reinforce that anything is possible."
The campaign, with media by Media Experts, lives primarily on TV across the country (with French creative in Quebec) and is supported online. Long-form versions of the TV spots are available on YouTube, going in-depth into the innovators' stories. There is also a social media push: people who engage in conversation about innovation using a designated Best Buy hashtag will receive gift cards for the retailer. This giveaway is not being promoted, but Kara expects it will spread via word of mouth.
Meanwhile, Future Shop's back-to-school campaign is all about being tech-forward, says Kushal Samy, senior marketing manager, Future Shop. It features students looking hip and edgy, and in some cases, engaging with technology.
With creative from Cossette and media by Media Experts, design elements in print like three-hole punched paper align with back-to-school. TV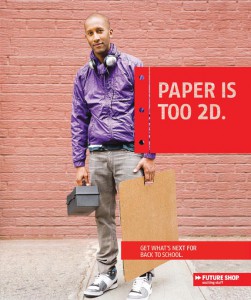 creative highlights the "digital native" status of today's youth, with young people saying lines such as "I was born on the internet."
Aside from print and TV, Future Shop has also bought more rich mobile ads so consumers can fully see the technology the featured phones offer, says Samy.

Also new for the 2012 back-to-school Future Shop campaign is a Facebook app called "El Trucko." The app uses imagery from the red-hot food truck trend and asks consumers to submit their own "tech-forward" slogans, such as "I'm a CTRL freak." The top 10 English and French slogans, as voted by Future Shop Facebook fans, will win prizes, including Marley headphones and t-shirts with their own slogans on them, says Samy, and they could win the grand prize of a "truckload" of Future Shop products with a $10,000 shopping spree.

"This year's campaign differentiates because we are focusing on engagement, we want consumers to connect with us. We think the movement around being tech-forward will really resonate."

With files from Val Maloney.