B!G Bronze: Cundari's BMW art auction takes flight
The Toronto-based agency gets artistic with the luxury car co to claim the third-place prize.
The challenge
For several years, BMW had been the automotive sponsor of the various Air Canada Maple Leaf Lounges across the country. As the most luxurious place for the well-heeled to await their flight, this opportunity seemed like a natural fit for the car manufacturer to reach its ideal demographic. However, by the end of 2010 the exposure they attained was disproportionate to the investment made. BMW challenged Cundari to find a way to bring attention to the brand as well as its sponsorship, and fortify their database for future generations.
The insight
Regardless of their income, travellers are busy people. In order to get them to stop and take notice of a brand's message, they must be given something of value that they can't find anywhere else.
The B!G idea
Cundari decided that rather than filling the travel lounge with BMW advertising, it would populate it instead with one-of-a-kind artwork created with BMW photography. Each of these enormous art prints was shadow-mounted and stylishly framed. Travellers who were intrigued by the collections were directed to a specially-created auction microsite that, in addition to allowing bidding, also gave a background and context to the individual pieces and collection as a whole. To further incent bidding, the site also explained how 100% of the proceeds raised were donated to the Air Canada Foundation – the charitable arm of the airline.
Cundari promoted the first three collections with gallery-style table signage throughout the lounge, as well as through social channels and targeted emails. After three successful rounds, the agency decided to take the auction to the next level by curating its own Canadian collection rather than using globally-sourced photography. By partnering with the Contact Photography Festival (another longtime BMW partner) Cundari found four talented photographers and offered them a creative challenge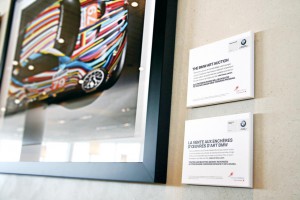 : take five hours and shoot the BMW of their choice in their own unique style. This creative experiment became the agency's most striking collection yet and the work extended beyond the Maple Leaf Lounges. The entire collection was unveiled at the Museum of Contemporary Canadian Art in Toronto during the awarding of the "Best in Show" BMW Prize during the Contact Photography Festival.

The impact

In addition to thousands of unique visits to the auction microsite, national coverage of the BMW Art Auction appeared in several trade publications, blogs, as well in enRoute magazine and the Contact Photography Festival guide.

Cundari filmed mini-documentaries detailing the entire initiative, which have been viewed by thousands on YouTube. After only three auctions, more than $20,000 for the Air Canada Foundation was raised and BMW's original challenge of database creation was achieved. In addition to hundreds of new qualified leads, more than a dozen vehicles have been sold as a direct result of the auction, and BMW's sponsorship of the Air Canada Lounge has taken off.

Jump to:

Gold: Sid Lee Architecture and Red Bull Amsterdam

Silver: MacLaren McCann and MasterCard