Next Big Things: The new branded content
Brands like Nike, Subaru and Molson are building audiences – and their own media channels – through apps and games.
Imagine having something that automatically tracks your every move, rewards you for accomplishments and shares your achievements instantly with friends and family. What if it also allows you to compare yourself against celebrities, and lets you video document your awesome stunts?
It already exists in the form of Nike+ and FuelBand, a product people buy and show off as proudly as we all did our first iPhones. It represents the new wave of branded content: ongoing relationships between consumers and brands, forged to create ecosystems for social connections and functionality. Brands are breaking into personal spaces, combatting tech fragmentation by providing mobile solutions for their customers that ultimately serve as free (and viral) media channels.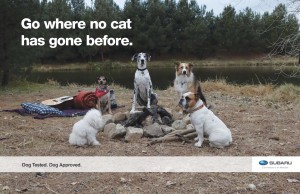 That was the reasoning behind Subaru's Map My Dog Walk and Guide to Everything, which tap into the brand's "Get Outside" mentality, says Rob Font, national digital communications manager, Subaru. Knowing that 70% of the brand's customers have a dog, Subaru has featured puppy-focused ads each February since 2010 during the annual Puppy Bowl. Looking for an opportunity to extend the experience beyond the winter months, it partnered with an app maker to launch the dog walking pedometer app, which also contains a built-in social sharing network to find dog walking friends in your vicinity, and record best walking routes, speeds and distances. Since its release, Map My Dog Walk averages 300 downloads daily, lending life to Subaru's "puppy-approved advertising" beyond the February campaign, Font says, adding that the functionality of the app has allowed for a deeper and richer relationship with users.

The car brand has since partnered with Lonely Planet for the Subaru Guide to Everything, an interactive guidebook-style app that allows users to submit destinations and reviews, as well as pull content from Lonely Planet.

These apps allow the brand to integrate into the everyday lives of its drivers, says Font, breaking through consumers' private spheres.

He notes that Subaru doesn't expect the app to drive sales, "but [they will] amplify their experience and really tie Subaru to that. It's a way to use the consumer as the voice of the brand – not just to pat ourselves on the back. At the end of the day, yes we want to sell cars, but if we have our owners speaking to their experiences and sharing that with others who potentially might be in the market [for a car], that holds a lot of value."

Achieving Nike+ calibre success in the brand-as-interface arena has long been the Holy Grail in this space, and now Nike has raised the bar again. FuelBand, a $150 (U.S.) arm band developed to encourage activity – be it through sport, exercise or everyday movement – tracks motion and assigns "Fuel," a Nike-developed exercise metric system, which is then uploaded to a personalized profile page that can be shared with others. And it's changing the way Nike does business, according to Stefan Olander, VP, digital sport, Nike.

At the Cannes Lions Festival of Creativity, Olander – the former global head of advertising at Nike – said that in the mid 2000s, people began to say they no longer wanted to hear "Just do it," but rather, demanded help to "Just do it." So in 2006, it debuted the Nike+ system, a running shoe with an embedded chip that wirelessly transmits strides to an iPod or iPhone, all synched through an online profile. The Nike+ Running community of more than seven million played off insights that people love to share their achievements and wanted an easy way to measure activity. Four years later, this evolved into FuelBand, allowing Nike to extend the Nike+ community to the rest of the athletic world.

"It's a product that lives with you and offers really good value. It's functional jewellery – and [it's] 365-day engagement," says Dre Labre, CD, Rethink and Cyber judge at Cannes, where FuelBand took home two Grand Prix Lions in Titanium and Cyber.

"It used to be that when you bought a product, that was the end of the relationship, [but now] the purchase needs to be the beginning of some relationship with the consumer," Olander said. "[Nike+ and FuelBand] creates an ecosystem of services." The connection with friends, family and celebs is a big driver, he adds. They've since released Nike+ Basketball, Nike+ Training and partnered with Microsoft to measure activity through Kinect devices.

FuelBand appeals to the desire to compete, which is why beyond functionality, gamification is another area that's ripe for content creation in the push to app-ify brands.

For example, tapping into the knowledge that beer drinkers tend to love hockey, Molson aligned itself early as sole sponsor of the NHL PrePlay app, targeting hockey fans (and more specifically fantasy fans).

The app, developed by PrePlay Sports and the NHL, allows users to play along with games by predicting who will score, win the faceoff or get a penalty, etc., competing against their social network for "predictive" supremacy.

"So many hockey fans think they can build a team better than [general managers] can," says Reid Black, senior marketing manager, Molson Coors Canada. "The predictive gaming app really plays off that insight that people believe they know the game better than their friends, and [creating] rivalry is a fun way to do that."

Once that "fun" factor is tapped, the app also directs people to the nearest Molson-sponsored pub or bar showing the game – something Molson plans to capitalize on in the coming season. Black says they plan to roll out in-bar tournaments, allowing players to compete with strangers, after early tests at the Real Sports Bar in Toronto during the Stanley Cup finals netted positive responses.

Building out this conversation has been very important for Molson, Black says, and something they've focused on for a few years now over social media channels. Now with mobile, there's a new opportunity to further ingrain itself into the lives of consumers.

"[We've] really taken a big step in this direction to play up the conversation with our drinkers – whether that's Facebook, Twitter, SMS or email," Black says. "This NHL PrePlay app will be another significant step in that direction."

He adds that while they aren't currently exploring new apps (having not seen this one in action for a full hockey season yet), they are open to exploring new partnerships should something that fits well for the brand arise.

"Campaigns are important, but they don't generally carry out the conversation in a meaningful way," he says. "For us, [the app is] a way to continually have a conversation with our drinkers, that isn't just a one-time thing. This is an opportunity to connect with them throughout the hockey season, and build a dialogue and the brand more intrinsically with our hockey fans."