Loblaw gets positive with President's Choice Children's Charity
The second component of the bi-annual campaign has revamped creative and will be promoted on Loblaw's assets to increase donations.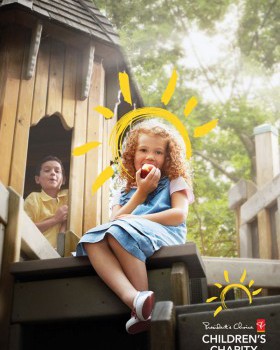 Loblaw is launching the second component of its bi-annual campaign for President's Choice Children's Charity with a new look and tagline in a cross-platform campaign.

The food retailer is inviting customers to purchase "paper icons" at store check-outs for $2, with the proceeds going to the charity. The "Lay down a toonie, lift up a kid" campaign launched yesterday and runs until Sept. 13, with the  aim to raise $1.8 million across Canada to promote children's health and wellness, says Peggy Hornell, senior director, President's Choice Children's Charity.

The campaign (with creative by Bensimon Byrne and media placed by Sapient) has a revamped look this fall, with a new tagline "Helping kids do anything," and  advertising that reflects the ideas of optimism and positive outcomes, she explains. The children's charity has also launched a new online donation destination.

"We just recently re-branded our charity, so the campaign will have a different look and feel compared to previous years," she explains. "We wanted our branding and the new visual expression to reflect the evolution of our mission and we feel that this rebranding allows us to better highlight the positive outcomes that our charity has made through our various donations and grants."

The campaign is being promoted with OOH posters on 100 Loblaw trucks in September, as well as in-store with display ads and weekly flyers. Online banner ads are also being placed on the non-profit's and Loblaw's web properties.

"Our media choices were made in order to leverage our business assets," says Hornell, adding that she believes a multi-platform campaign will more effectively reach the 14 million customers who shop at Loblaw's each week.