Telus connects with youth through We Day
The telco has signed on as co-title sponsor of the youth event series and is activating with a round of social media promotions and a cause marketing campaign.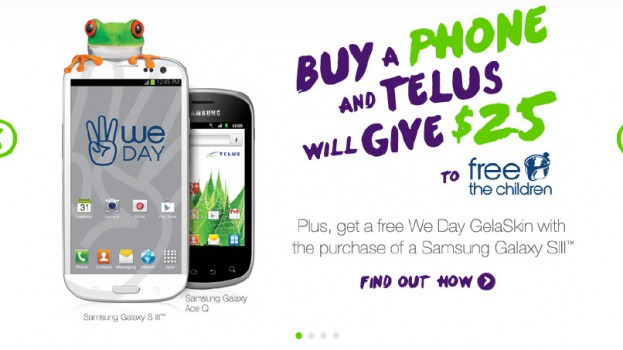 Telus has announced a five-year agreement to act as co-title sponsor of Free the Children's We Day, an annual event held in cities across Canada that empowers youth to take action on national and global issues.

The telecommunications company is activating its sponsorship with a series of cross-Canada initiatives, kicking off with a cause-marketing campaign, says Jill Schnarr, senior vice president, community investment and engagement, Telus.

On Sept. 7, the brand will launch the "Phones for Good" campaign, giving $25 from the sale of every Samsung Galaxy SIII or Samsung Ace Q smartphones to the youth non-profit. Telus will promote the campaign through OOH billboards and online ads placed on Facebook, as well as on high-traffic news and information sites. Creative was handled by Taxi, while media placement was done by Cossette.

Schnarr explains that the brand expects the sponsorship to appeal to socially responsible consumers who want to "do business with companies that share the same feeling." She adds that the brand is hoping to broaden its reach to a youth audience.

"Telus has taken a leadership position in corporate social responsibility especially over the last five to 10 years, and our [and Free the Children's] missions aligned with one another," says Schnarr. "Because we have a long-standing relationship with them it really made sense to expand that partnership."

In previous years Telus has been involved in the We Day event with activations that streamed texts from youth describing their thoughts and feelings onto large screens on-site. As co-title sponsor, the brand is stepping it up a notch with the addition of a social media contest.

The "Earn your way to We Day" promotion, which begins Sept. 12, invites youth to submit stories detailing what they are doing to make a difference in their communities. Contestants will be entered into a random draw to attend the event in their city and document their experience by uploading videos to the brand's microsite or on social media. The telco will donate $1 to the non-profit for each entry.

Following the first of the event series, which occurs in Toronto on Sept. 28, the brand will also invite youth to upload a video describing how they would partner with a local charity to positively influence their community, with the winning participants receiving $20,000 to put their ideas into action.