Metro shares its love of news
The daily newspaper is rolling out a set of promotions as a fall extension of its "shareability" campaign that launched in the spring.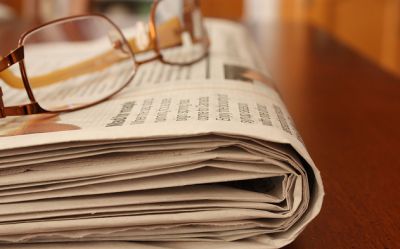 Metro is continuing to preach its "shareability" with several fall initiatives that include giving people cash for reading the news and discounts on clothing for those who show up to shop with the free daily paper in hand at H&M.

The "Back to sharing" initiatives are extensions of the promotional campaign launched in April (creative was handled by Rethink with media done in-house), with a focus on the value of sharing Metro's print and digital offerings.

The first promotion, "Scan, share and win!"  kicked off early this week by asking readers to use the Qriket iPhone app to scan QR codes placed in Metro newspapers. By accessing and sharing content such as breaking news updates, as well as video and photo galleries, they could win up to $10,000 in cash prizes.

And on Sept. 13, the brand is bringing "Metro day" to H&M flagship stores in cities across Canada. The daily paper's readers can show their copy of Metro in the retail stores to receive a 25% discount off their first purchase.

Also, the newspaper is relaunching its contest site Clubmetro.com on Sept. 24 to be more user-friendly and with additional branding opportunities for advertisers. A new "mega box" ad unit on the "thanks for entering" page is now available for advertisers, and contest imagery and information is larger in size, providing brand partners with increased exposure on the page, says Jodi Brown, VP marketing and interactive, Metro.

She adds that the promotions are targeted at young, active urbanites between the ages of 18 and 49 who live, work and go to school in downtown Toronto, Vancouver, Halifax, Calgary and Edmonton.

"Last spring we were in the market with our biggest ever national advertising campaign," she says. "We thought that fall was a good time to pick up on that momentum again and carry it because [this season] is a time to re-establish habits and we wanted to make sure that our message was on the forefront [of consumers' minds]."

Advertising for the promotions will predominantly be in Metro newspapers and online as well as through social media, such as Foursquare, by way of geo-fenced ads that target consumers who are nearby H&M locations (for the "Metro Day" promotion). Media and creative were both handled in-house.