Cashmere speaks up for the Canadian Breast Cancer Foundation
The Kruger Products brand is showing more love for its partner foundation by placing ads that promote its limited-edition Pink Cashmere product in French Canada.
Cashmere's once-a-year breast cancer awareness fundraiser, where models strut down the runway clad in bathroom-tissue dresses, is no longer an exclusive media and VIP affair. It's virtually open to anyone who has a computer screen.
That's because, for the first time, the brand will be live-streaming the "Cashmere White Collection" event from its Facebook page. Afterward users can vote for their preferred couture dress and in exchange Cashmere will donate $1 to the Canadian Breast Cancer Foundation.
The digital screening of the event isn't the only first for the campaign this year; Cashmere is also introducing new print and TV creative to the French market, say Nancy Marcus, corporate VP of consumer marketing, Kruger Products. English creative was handled by John St, while Maxux handled the media planning and purchasing for the campaign was handled by Maxus.
The bathroom tissue brand usually promotes with advertising that focuses on its White Cashmere Collection. Although this year's French creative, placed in titles that include Elle Quebec, 7 Jours, Chatelaine French and Lou Lou French, features the brand's limited edition Cashmere Pink product (where, for every pack sold, the brand will donate 25 cents to the foundation) and puts more focus on the work that it's doing with the foundation.
This is the ninth White Cashmere Collection event, and it's the seventh year of the brand working with the Canadian Breast Cancer Foundation. "Consumers know of our involvement [with the foundation] even more so now than before, it's grown to such a heightened awareness that it requires that much more support," says Marcus.
Additionally a new 15-second and a 30-second television commercial will air on conventional and specialty channels in both English and French Canada. The second market will see also see a standalone spot (created by Quebec-based agency Jacques Y&R), says Marcus, introducing the Cashmere Pink product to viewers when it launches in October.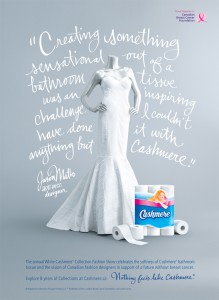 "The bathroom tissue market is highly competitive. We want to engage and attract our consumer, and have them recognize that we are socially philanthropic," she says of the reasons behind ramping up creative that speaks of its partnership with the foundation.

"We're really speaking to Canadian women as women. We are not euphemistically talking about bathroom tissue," she adds. "We tell our customers that nothing feels like Cashmere. This collection has evolved into a fully integrated fundraiser and event for our customers and retailers."

English Canada will also see advertising on CTV, multiple radio stations and print magazines, including House & Home, Fashion, Hello! Canada and Canadian Living, and the messaging will be about past White Cashmere Collection events with full page and double page print ads showcasing couture dresses from the previous year.