BioSteel plots next move
The pink energy drink maker wants to move from word-of-mouth phenomenon to mainstream success.
It's a warm, late summer morning in August, but inside a small private hockey rink north of Toronto, the temperature hovers near zero degrees Celsius. Groups of reporters shiver in full-length sweaters while watching players representing millions of dollars in NHL contracts skate around on the ice. When a whistle stops practice, the players file off past tables loaded with plastic cups of pink liquid they grab on their way to the dressing room.
They're drinking BioSteel. The small, Toronto-based company organizes the camp that has become popular among NHL players preparing for the upcoming season.
"It's really helped us get our name out there without spending too many advertising dollars, because it's all PR," says company co-founder John Celenza in reference to the NHL players camp. His comment hints at the strategy behind the small company's rapid ascent on a minimal marketing budget: three-year-old BioSteel now boasts one of the widest distributions in Canada for any dry-powder supplement.
Long known in NHL circles as the "pink drink," BioSteel recently signed major distribution deals with retailers such as Loblaw, Sobeys and Rexall. Soon the product will be available in 2,000 stores across the country, compared with about 350 at the start of the year.
Six months ago BioSteel joined a pilot program run by Y&R to be one of the agency's incubator companies. Celenza works out of Y&R's office, with staff from the agency handling all of BioSteel's marketing and strategic planning free of charge. The assistance will be valuable as BioSteel makes the jump from word-of-mouth brand among elite athletes to the mass consumer market where it squares off against a slew of popular sports drinks.
BioSteel is the brainchild of former Toronto Maple Leafs strength coach Matt Nichol. A longtime researcher of nutritional supplements, he devised his own concoction for Maple Leaf players when the NHL introduced drug testing in 2004 to ensure his players weren't taking anything illegal. The product he came up with is a powder that's mixed with water.
Eventually, he went into business with Toronto-native Celenza, and the two sold BioSteel directly to various NHL teams before branching out to other pro sports such as basketball and baseball. Word about the "pink stuff" spread among pro athletes and the drink was increasingly spotted on the benches and dugouts of stadiums around North America.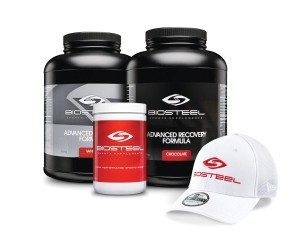 As word spread through social media, demand for BioSteel grew and so did its profile. Larger rivals in the sports and energy drink market took notice. Celenza says BioSteel received cease-and-desist letters from the National Hockey League and a warning from Major League Baseball about how the young company must refrain from showing league logos on its website and packaging as it isn't an official sponsor. Then last summer in Toronto, company co-founder Nichol – who moonlights for sports broadcaster TSN as an on-air analyst during annual scouting camps for young hockey players – was suddenly surrounded by several security staffers who wouldn't let him appear on camera until he removed his BioSteel golf shirt.

The drink was initially sold to consumers directly from its website, before expanding to  sports stores such as Source for Sports and Sport Chek. Now it will tackle mainstream retailers where competition from established energy and health drinks will be stiff. However, no media campaigns are planned to support the wider distribution, with Celenza confident in the existing mix of athlete endorsement and social media marketing.

In the past, energy drink makers handed over large samples of free product to teams with whom they have licensing and sponsorship deals. But professional sports teams buy products directly from BioSteel because their athletes demand it. The challenge in growing BioSteel will be to preserve that perceived authenticity among pro athletes and trainers, says Y&R president Chris Jordan. The company sends free product to a select group it calls "BioSteel athletes" whose pictures are featured at the point-of-sale on its website. Most do not receive a fee from BioSteel, although a handful receive what Celenza describes as a "miniscule" amount.

One of those athletes is Boston Bruins forward Tyler Seguin, who has been using BioSteel for about two years. Standing outside the dressing room at the rink north of Toronto, he talks about the product with an almost uncanny devotion. "I feel it makes me more fresh. I always seem to have more energy when I'm on it than when I'm not. And obviously it has a pretty good taste, so that helps as well."

To power future growth, Y&R has now set its sights on the female market. At certain retailers – usually those focused on hockey goods – more than 50% of BioSteel product is purchased by mothers who come in with their kids. These hockey moms are now using it themselves while they work out. "The female market right now is a big opportunity," says Kasi Bruno, director of strategy and cultural insight, Y&R. The agency will target high-performance female trainers who they hope will eventually act similar to Avon sales agents.

Jordan says part of what fascinated Y&R about BioSteel was that it's a brand that became known first simply as a colour. The agency's efforts in the social media space will continue to play up the #drinkthepink hashtag on Twitter, leveraging the massive social media followings of the athletes who use the product. Recently Jordan instructed Celenza to cancel a factory order of opaque red bottles at the last minute because he wanted the company to use clear ones to show the drink is bright pink after it is mixed.

At the moment, there is no set end date for the relationship between the brand and agency. For now Y&R is focused on managing BioSteel's nascent expedition into some of the country's biggest retailers.

Like many private companies, Celenza keeps BioSteel's sales figures a closely guarded secret. He simply says sales have increased "drastically" over two years of official record keeping. But as it enters the ultra-competitive grocery-shelf landscape, the brand that built its reputation among pro athletes will not necessarily tackle wealthier rivals head-on.

"I've always felt we're a bit of a tweener," says Celenza, using a term that describes an athlete who can play two positions. He says that BioSteel falls in between the traditional categories associated with sports beverages and supplements. While acknowledging that BioSteel is at heart a sports supplement, it isn't positioned as the preserve of muscleheads. Celenza sees it as a healthier alternative to mainstream energy and sports drinks. The closest rival would probably be powder supplement Vega, a fellow Canadian company that enjoys comparable distribution across the country. BioSteel is priced higher than others in similar categories due to its ingredients.

To that end, don't expect to see BioSteel for sale directly beside energy drinks like Gatorade. Y&R's Jordan wants to keep the product in nutrition sections, allowing it to command a premium price due to its stellar reputation. "I cringe at the thought of driving up to an on-the-run convenience store at an Esso station and having one of those valuable pieces of point-of-sale that says 'two bottles of Gatorade for three dollars,'" he says. "That's not us."

Celenza adds, "We're going to get this product in the hands of the best athletes in the world and they're going to influence everybody else to do it, and we're not going to compromise."