Brands of the Year: Rediscovering the Loblaw story
Bold marketing initiatives aim to keep the chain at the top of the Canadian grocery ladder.
Builders working on the flagship Loblaws store inside the former Maple Leaf Gardens faced some unusual requirements due to the building's designation as a national historic site. For example, they had to individually mark every brick they removed from the old arena to be sure it went back in the same spot when they finished building the grocery store.
Perhaps that meticulous process serves as a metaphor for Loblaw Companies' efforts to rebuild not only its bottom line, but its standing in the minds of Canadian consumers as the undisputed king of grocers. It's been a tumultuous half-decade for Loblaw and the intersecting network of brands that spiral out from under its umbrella.
Loblaws represents 77 of the more than 1,000 Loblaw network stores across the country. Regional banners include Real Canadian Superstore, Zehrs and No Frills. The Loblaw network sells some of the country's most popular consumer packaged goods lines too, such as the iconic President's Choice and No Name brands. Yet in 2006, the company reported its first annual loss in 20 years, and its share price is now about half of what it was in April 2005 as it continues to struggle with profitability. So Loblaw remains in the midst of a turnaround that began when Galen Weston Jr. took the executive chairman job in October 2006, and it faces intense competition from the likes of Walmart and, soon, Target.
However, over the past year-and-a-half the company undertook a series of marketing initiatives to pull momentum back in its favour, from the innovative Food Network reality TV program Recipe to Riches (which was the first from-show-to-next-day-retail series), to the glowing press surrounding the opening of its Loblaws chain flagship inside the former Maple Leaf Gardens in downtown Toronto.
Loblaw also unveiled a new premium line of Black Label products to class up its iconic President's Choice line and refocused on locally sourced food and the stories behind those who produce it.
It all harks back to the ethos of its "Dave Nichol Insider Report" campaigns from the 1980s, which featured the gregarious pitchman telling people the stories behind the company's President's Choice products.
Today, it's Weston Jr. doing most of the pitching. Much of Loblaw's marketing work is done in-house, but the company does work with Bensimon Byrne on creative and SapientNitro on digital.
Loblaw executives talk often about leveraging their marketing history; it's because they enjoy the benefit of working with product lines long successful among Canadian consumers. The strength of President's Choice was highlighted earlier this year when an Advertising Week Ipsos Reid study of influential brands in Canada put President's Choice third behind Microsoft and Google, and ahead of Apple.
On Recipe to Riches, which is now prepping for season two, contestants compete to have their homemade recipes developed into an actual President's Choice product that goes on sale in the Loblaw network the day after broadcast. When Temple Street Productions pitched the show to Loblaw executives, they felt it built brilliantly on the company's history of narrative marketing.
In addition, control of both a large distribution network and popular private labels affords the Loblaw marketing team such unique opportunities. "We're really the only organization in the country that's positioned to pull a show like this off," says Uwe Stueckmann, SVP marketing, Loblaw Companies. "It builds on the legacy and history of our Insider program, letting people take an inside look at how products are developed, as well as manufactured."
Recipe to Riches has also attracted several thousand Twitter and Facebook followers, not to mention its weekly television audience, which BBM Canada estimates at about 640,000. Viewers vote online for the winning recipe each week and when it hits store shelves it is heavily promoted in-store with flyers and displays. As to sales, Stueckmann said it has helped "move the needle" on a variety of product lines under the PC banner.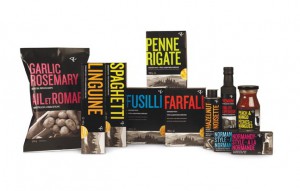 Loblaw also moved to bolster the iconic President's Choice brand last November by rolling out the premium Black Label line of products. The new packaging is a nod to the minimalist yellow-and-black No Name products first launched in the late 1970s. The idea behind Black Label is straightforward: bring premium products to Canadians at affordable prices. Examples in the line include Cherry Shiraz Wine Jelly and Bacon Marmalade.

"It's a natural evolution for the President's Choice brand," says Stueckmann. He says PC has always been a "consumer advocate" in bringing higher quality food to Canadians, and that market research found loyal PC customers had always looked to the brand to bring new food experiences, adding that products available in the Black Label line were previously not accessible in many parts of the country.

If Loblaw private labels enjoy a strong reputation in the minds of consumers as a source of new food experiences, the place many of those ideas can be incubated is the new Loblaws flagship store inside the former Maple Leaf Gardens. Loblaw executives refer to it as a "food theatre" but it functions more like a giant laboratory, the testing ground for food and retail concepts that can be exported elsewhere in the Loblaw network.

Among the store's unique features is a giant wall of cheese products, a test kitchen with its own executive chef and daily menus, as well as a 120-seat canteen where people can sample the kitchen fare.

Andre Fortier, VP concepts, Loblaw, says that visits per customer at the flagship are 25% higher than at other Loblaws outlets around the Greater Toronto Area. This means the store is laid out to meet the needs of both people coming in once a week for a large load of groceries and those dashing in to buy ingredients for an evening meal. It is also the only store in the Loblaw network with a dedicated Twitter feed, informing roughly 1,100 followers about what products are available and letting people tweet about things they'd like to see in the store.

Stueckmann says that since its launch last November, the store has been a hit with customers, making some of the logistical headaches that accompany running a store inside a national historic site worth it (small food storage and loading areas are a concern.) If the laborious process involved in building the store can be repeated on a larger scale in efforts to bolster the company's bottom line, it will have been worth the wait.

Loblaw hopes its marketing initiatives galvanize efforts to restore the brand to where it was 10 years ago.

Loblaw remains the largest grocer network in Canada and Stueckmann says its employees are rallying around successes like Recipe to Riches, which is now being exported to other countries. "It's a testament to the passion that our 135,000 colleagues across the country had for this program. There was a lot of internal pride and that really drove the flawless execution we ended up getting in our stores."

This article was updated to reflect the current number of Loblaws branded stores in the Loblaw network.