What started 13 years ago as a tiny event that attracted an audience of 200 has grown into a massive biannual affair attended by 40,000 guests over five days, and 877 million media impressions worldwide. Toronto Fashion Week (now World MasterCard Fashion Week as of March of this year) has put Canada on the map as a style capital.
In August, World MasterCard Fashion Week was sold to IMG Worldwide, an operator and manager of sports, entertainment and fashion events in more than 30 countries. This means the Toronto style showcase joins a roster of other international fashion weeks owned and commercially represented by IMG Fashion such as those staged in New York, London, and Milan.
The sale means the possibility of more press for Canadian fashion and incentives for industry and media to attend both New York and Toronto weeks, as rumours are swirling that the two events could be scheduled successively.
This could be a big break for Canadian designers like Denis Gagnon and Juma to gain more international recognition. Toronto Fashion Week has already helped launch names like Joe Fresh and Pink Tartan, which have made waves across the border. The Loblaw in-house clothing brand Joe Fresh recently opened New York-area flagship stores and struck a deal with JCPenney this summer.
Peter Levy, SVP and managing director, IMG Fashion Events and Properties says one of the initiatives for this year will be Mercedes-Benz Start Up – a national program that travels the country in search of emerging fashion designers who are selected through an application process. Semi-finalists go on to a final group show at World MasterCard Fashion Week in front of an international audience of media, buyers and fashion fans. The winner receives a fully produced solo runway show the following season, editorial coverage in Fashion magazine and mentoring from industry professionals.
"Our global mission is to provide designers an ever-evolving platform to connect with buyers, press and consumers," says Levy. "[Our goal] is to build a year-round program to promote both sponsors and designers, as well as support their individual business objectives."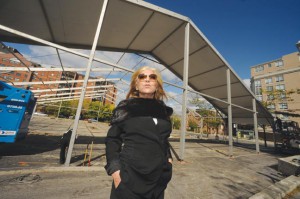 While the show is well on its way to becoming an international phenomenon, it came from very humble beginnings. Toronto Fashion Week was founded in 1999 by Robin Kay who is president at the Fashion Design Council of Canada (FDCC). She made a name for herself as a fashion designer in the '80s and '90s and created the event because she felt Canada was missing out by not having its own fashion week. (The event's acquisition by IMG marks Kay's exit as executive director of World MasterCard Fashion Week, but she will continue to serve as a consultant.)
"The first show was held at the Windsor Arms Hotel and it was exciting because it was the first step onto a national and global platform. But running a not-for-profit event that had no income in those days posed a challenge because we needed funds to put the proper teams in place to build it," says Kay.
Toronto Fashion Week initially had a budget of $25,000 and a single sponsor, Holt Renfrew. A three-person team managed the six-designer show that took place on a 25 ft.-long-runway.
Twenty-six seasons later, the event is run by a team of 200, and has been attended by hundreds of thousands of fashion professionals.
Under Kay's leadership, it grew to become the second-largest fashion week in North America ahead of Montreal, Miami and L.A.
It is now held in a 75,000 sq. ft. double-runway roomed tent, showcases over 100 designers and is operated by an army of volunteers from local fashion schools who help maintain a variety of areas such as media lounges, backstage and a "fashion environment" where industry professionals can network and mingle.
Over the years companies like LG, L'Oréal and MasterCard, have all come knocking on the door (paying between $60,000 and $1 million) to participate as Toronto Fashion Week sponsors, to benefit from a fashion crowd association and reach trendsetters. MasterCard became involved with the event two years ago and was named the title sponsor in March of this year.
Prior to that, LG held the name of title sponsor for three years. It was looking for an event-based activation that would help build its presence in Toronto and promote the brand as being more stylish. The title sponsorship gave LG naming rights (the show was called LG Fashion Week during the partnership), areas to do hosting and product displays for phones and appliances, as well as tickets to every runway show that could be passed on to clients and consumers, according to a former LG executive who worked on the sponsorship package.
Project Runway Canada winner Carlie Wong used LG mobile phones as accessories on the runway. The brand also teamed up with Sears for a contest where fashion students designed blue jeans with the winning pair unveiled at LG Toronto Fashion Week.
In addition to the promotional support of its major sponsors, Fashion Week has run its own image-building campaigns to grow the event. It is open to the public, which distinguishes it from the top four fashion weeks on the circuit (New York, London, Milan and Paris), where admission is by invitation only.
While some of the creative for the event has been done in-house by Kay herself, she has also worked with Grey Canada, Leo Burnett and Endeavour Marketing on campaigns.
In previous years, the creative (placed outdoor, in print and digital) often highlighted aspects that were unique to Canada, like Endeavour's "Canada Cool" campaign that showed a model blowing cold air in an icy environment.
Barry Avrich, president, Endeavour Marketing, first worked with Kay the year the event launched when he was with Toronto-based marketing agency Echo. He started Endeavour in 2005 and it became the AOR for Toronto Fashion Week three years ago.
"We did everything from strategic marketing for the event, media planning and creative," says Avrich. "We also helped re-examine ticketing for Toronto Fashion Week and developed a relationship with Ticketmaster to make it a more consumer-driven show."
With IMG owning and operating the event, Avrich is uncertain of Endeavour's future as AOR. According to IMG's Levy, branding strategies have yet to be determined. "We are continuing to work with local teams, vendors and consultants along with the global IMG team to ensure any moves we make are strategic and beneficial to the local industry."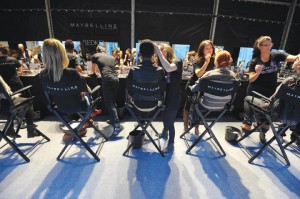 Of course, it's the global world's seal of approval that determines Toronto's spot in Fashion Week hierachy.Toronto Fashion Week truly made its mark on the global scene in 2004, when Italian fashion label Missoni celebrated its 50-year anniversary by showcasing a retrospective at the event. Toronto was chosen to commemorate a partnership with Milan and to endorse trade relations in the area of fashion, after the two cities signed a formal international alliance agreement to strengthen economic and cultural links in 2003.
"One of my idols during my days as a designer was the House of Missoni," says Kay. "The brand was so impactful on my own career and then being able to host them in Toronto for its 50-year retrospective and getting to know the Missoni family was an incredible moment."
She adds, "Toronto is a world-class destination for culture, including film and theatre, and I'm pleased fashion is now a part of that."