Cadbury pits Screme against Creme
The Hive launches a campaign for the new Halloween confection.
The Goopocolypse is coming. In a retelling of the age-old good versus evil match-up, Cadbury Creme Eggs are in for a battle with the launch of the mutant Screme Eggs – their Halloween cousins.
The signs have (literally) been here for weeks, with billboards warning of Creme Eggs' impending doom, while short online videos (condensed into 15-second TV spots for air), created by Toronto-base The Hive, have been weaving a gory tale. The first video, which launched Sept. 15, highlights some poor innocent Creme Egg wandering home late at night (Horror Movie 101 – never walk home alone after dark!) when it's viciously attacked by blood- (goo?) thirsty Screme Eggs. The second video – which goes live Oct. 1 – continues the saga as the situation becomes more hopeless for the gooey candy, with eggs cornered in a back alley as a mob of zombie-fied eggs march towards them.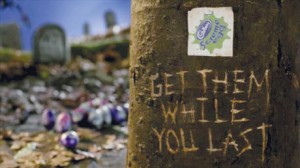 "Things don't end well. It's Goopocalypse at its darkest," says Simon Creet, VP CCO, The Hive.
The third video, which debuts Oct. 15, will feature Creme Eggs' last stand, the final battle between the two sides. This will all be supported by five 15-second videos available online called "The Goo News," which follow news coverage of the invading mutant candies.
Creet says the media mix – OOH and the15-second condensed TV spots all driving back to the Creme Eggs' Facebook page, where the full-length 50- to 80-second clips will live – will appeal to a target audience of 18- to 35-year-olds.
Considering the length of the Halloween ramp up (some product was out in August alongside back-to-school merch), Creet says they wanted to quickly establish the candy's backstory. Each of the three videos play off different horror genres, including slasher flicks, zombie movies and action films, while the tag, "Get them while you last" plays off the insight that the Eggs' popularity is spurred by its seasonal shelf life.

"We're showing the contrast between good and evil: the sweet, Eastery Creme Eggs and their horrific cousins," he says. "If good is what a Creme Egg stands for, then showing that the Screme Egg is the exact opposite felt like a really fast way of explaining the relationship between the two of them. They're murderous eggs, as opposed to masochistic ones."