The Children of the Street Society is watching
The Predator Watch initiative is targeting potential offenders and raising general awareness through an attention-grabbing online and OOH campaign.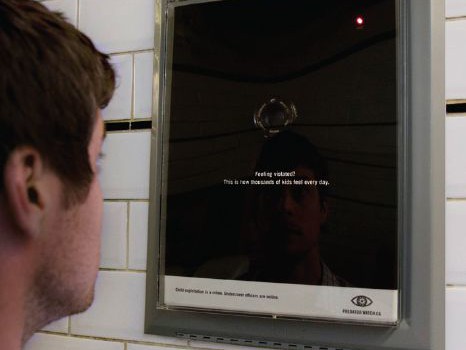 B.C.-based Children of the Street Society has launched a new campaign for its initiative called Predator Watch which is targeted at potential child predators and also aims to raise general awareness around crimes against children.
The campaign, which includes digital and OOH components, was placed to reach potential perpetrators and sympathetic supporters, while not being visible to children themselves, says Michael Milardo, creative director, Cossette in Vancouver. To achieve that, the agency placed OOH ads in 19+ bars and online ads appear on male-targeted sites like Maxim.com, Dailyxy.com and Askmen.com.
OOH ads in the campaign appear in men's washrooms and feature what looks to be an active 3D camera lens with the copy "Feeling violated? This is how thousands of kids feel every day." Online ads feature what appears to be a 16-year-old girl with an invitation to connect through a webcam. If someone clicks through, the camera lens turns on the user and copy appears that says "if you're thinking of hooking up with children, don't. Undercover officers are online."
"The primary target is to connect with potential perpetrators or people who have those inclinations by being where they are online," he says. "So placing the ads online made a lot of sense in male oriented networks. In terms of OOH we thought it was important that the secondary target had something to talk about and discuss."
The OOH ads will run throughout October, and online banners will continue through the rest of the fall.