Music makes BC Dairy cows happy
The non-profit has created a contest asking consumers to make music that will entice cows to produce more milk.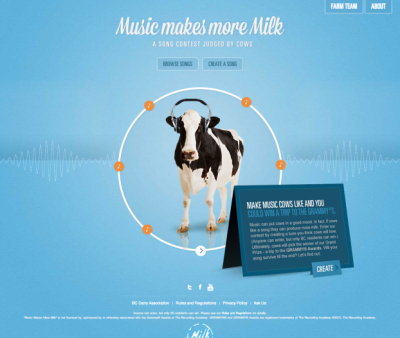 BC Dairy typically speaks to youth aged 12 to 17 when promoting the province's dairy products. This is because milk consumption tends to drop off as teens become more independent, says Dean Lee, creative director, DDB Canada (BC Dairy's agency of record). But after research was found suggesting that parents with children under the age of 10 are reintroducing milk into their diets to set a good example for their brood, the organization decided to readjust its audience targeting, so for the first time, the non-profit is also looking at an older demographic of men and women in their 30s and 40s.
The online "Music Makes More Milk" initiative revolves around the insight that cows respond favourably to music. They tend to produce more milk when they're happy, which is why BC Dairy is asking Canadians to support their efforts in lifting the spirits of the region's cows by making their own music online. Consumers can go to the organization's microsite and compose an original song as well as vote for their favourite songs. The top tunes will be played to cows on a BC dairy farm and videos of their reactions will be uploaded to the site starting in November. The winner will be determined based on the highest milk production achieved by the cows while listening to the music and be given a trip for four to the Grammy awards in LA. Only BC residents are eligible to enter the contest.
For the "Music Makes More Milk" campaign, the organization worked with OMD in Vancouver to find a broadcast media partner that was able to provide programming for the dual youth and adult target demographics, says Erica Bauer, media strategist, OMD. "We were seeking to maximize the budget and create efficiencies by working exclusively with a single media partner," she says, adding that it chose to work with Shaw Media and its Global TV and Slice properties for this campaign.
During the campaign voting period, 15- and 30-second commercials will air on Global TV BC with the shorter version also appearing on Globalentertainment.com, Globalnewsbc.com and Slice.ca as pre-roll video, says Bauer. "Global offers programs that over-index against both targets," she notes. "Additionally, the Global Morning News cast has been able to provide a fun editorial component to the campaign with a farm visit and an on-air interaction with the "Music Makes More Milk" site." Bauer adds that the organization will be looking for other "shared common interests and shared media opportunities" to help target both demos going forward.
"The initiative is a great way to speak to both targets as they both spend a lot of time online," says Lee. "Parents particularly love to share content that is fun and educational with their kids. And for teens, it's just a fun competitive experience that encourages them to share their creation with their friends. The real objective of the campaign is to make milk top of mind [as] we have found if you're thinking about milk, you tend to crave it."