5 Gum strikes a pose
The Wrigley Gum activated its World MasterCard Fashion Week sponsorship with a fashion collection in partnership with Greta Constantine.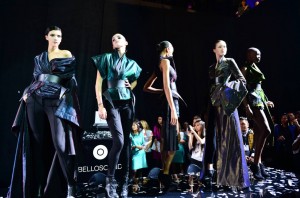 This week's World MasterCard Fashion Week in Toronto featured a collection by designer team Greta Constantine in partnership with Wrigley's 5 Gum, called the 5 Black Collection.

Launched with the help of BBDO, MediaCom and World MasterCard Fashion Week organizing company IMG, the gum brand launched the ten-piece collection of black clothing with pops of colour to both target its fashion-loving core demo of 25-year-olds and attract new users, Michelle Lefler, manager of corporate affairs, Wrigley, tells MiC.

"The idea came from the insight that we know consumers of 5 Gum care about fashion," she says. "The lovers of the brand are very fashion conscious, they see fashion as part of who they are. We have been very intentional about our design and we saw fashion as a way to elevate the brand."

Lefler adds that the 5 Black Collection will also be showcased through a YouTube and Facebook video campaign going live next week.