AOY Honourable mention: Lowe Roche's key to innovation
The agency seeks strategies agnostic of any discipline.
Toronto-based Lowe Roche is in the winner's circle this year with an honourable mention for AOY. When asked what drives its success, CEO Monica Ruffo simply recites the shop's mantra: "Innovate or die."
For Lowe Roche, innovation means mixing disciplines in new ways, according to Ruffo, who joined the agency in September of last year. "We look for strategies that are agnostic of any discipline and find unique ways of delivering a mash-up of communication," she says.
With its recent work for Pfaff Auto, for example, the agency took photos of Porsche Carrera 911 S vehicles in select Toronto homeowners' driveways and then delivered personalized cards to their mailboxes. "While this was a direct mail piece, we used a level of personalization that you would usually see in the digital space," says Ruffo. "We borrowed what is effective in digital and applied it to one of the oldest disciplines in communication, direct marketing on a printed piece."
For O.B.'s "A Personal Apology," which earned a Cannes Bronze Lion in the PR category, Lowe Roche combined digital technology with direct marketing to create a personalized way of delivering the message through a song and video.
The agency's inventive mentality can be attributed to its structure, according to Ruffo. "Our staff members don't sit in perfectly organized departments," she says. "We have creative people mixed in with account people, interns and producers, which helps inspire ideas."
Lowe Roche saw some staff changes this year. Pete Breton and Dave Douglass left their roles as co-chief creative officers in September, and Sean Ohlenkamp, former VP and digital creative director, was promoted to CD. Art director JP Gravina and copywriter Simon Craig were named ACDs.
This year, Lowe Roche also became full-service in both French and English languages in all areas from account services to strategic planning. Ruffo, founder of the agency's Montreal office Amuse, implemented French services into the Toronto shop when it began working with GroupeMédia TFO last year. "It gives us the ability to be more efficient for our non-English clients and really gets the entire agency to be thinking in a bi-cultural way."
The agency had three Gold AOY wins in the past ('93, '97 and '98) and it seems the mantra is working, bringing the shop back into the AOY circle after its last honourable mention three years ago.
Read on to see which cases helped Lowe Roche nab AoY Honourable Mention.
Type Books spreads joy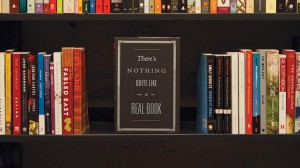 With so many consumers turning to eReaders, large chain stores and online retailers, Toronto's Type Books needed to rekindle people's love of books. Since local bookstores offer a unique experience not available elsewhere, the agency decided that Type Books should head the cause for independent booksellers everywhere. Using earned media to spread the word, the agency produced an in-house film celebrating the "Joy of Books."
Taking the viewer on a journey through Type Books, the stop-motion animation film shifts back and forth between fantasy and reality. The piece ends with the reminder, "There's nothing quite like a real book."
The film made the front page of Yahoo! and the message was shared across the globe by film festivals, TED and The Onion. The Type Books website attracted 1,500 visits in a week and its Twitter account gained hundreds of new followers in January. The store also became recognized in 192 countries and territories.
TFO's fresh new look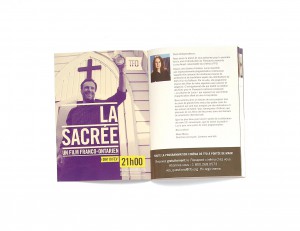 For its 25th anniversary, TFO wanted to revamp its look into something that would attract a younger audience, spark consumer interest and help ramp up donations.
To retain the brand heritage while modernizing its feel, the new logo took on the shape of a flag to symbolize TFO's strong emotional connection with French-speaking Ontario. As the organization does not carry any commercials but does on-air self-promotion, a bold spectrum of colours were chosen to help identify TFO's diverse cultural content.
The rebranding rolled out across all media platforms, including its station IDs, website, online boutique, on-air promotions, stationery and outdoor.
Traffic to the TFO homepage is up over 20% year-on-year. The fan following on Facebook has grown six times since the launch of the campaign, and the average number of visits has  increased over 18% in the first half of 2012 compared to the same period in 2011.
o.b. sends a personal apology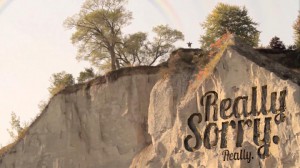 In late 2010, a distribution issue resulted in the Johnson & Johnson O.B. brand of tampons disappearing from shelves across Canada. The company approached Lowe Roche to help let consumers know that not only was O.B. truly sorry, but that the brand was also back in stores.
Lowe Roche found that the female target was active on social media, so a super-personal music video was produced to reach out to them. Leveraging the brand database, it delivered 65,010 personalized emails, noting the shortage of the product and a link connecting them to their own personal apology. The video featured a contrite young man in a majestic setting singing their name in heartfelt song, while each name was written in rose petals, in sky-writing and even as a tattoo on the hero's arm. The song, written and produced by Lowe Roche, was designed to – and did – resonate with the target in a humorous way. The user was invited to download an online coupon for their next O.B. tampon purchase, and to share the video with a friend.
The initial launch received a 61% email click-through rate and 920,107 coupon downloads. In the first three months, Lowe Roche garnered 1.4 million Facebook shares and 1.8 million Twitter impressions. The campaign trended online, with mentions on sites like Jezebel, Gawker and Daily Intel.
Nestle celebrates difference between cats and dogs
To differentiate Nestlé's Purina One SmartBlend brand from the rest of the pet food category, Lowe Roche played on the insight that relationships with their pets differ for cat and dog owners.
It leveraged the idea that feline owners see a bit of themselves in their pets. The "Stephen" campaign focused on this concept of "nurturing individualism" and showed a cat enjoying mutual interests with his owner such as reading a newspaper, critiquing art and blogging about snowboarding.
For dogs, the "Yoga" campaign showed that the bond between owners and their pets is like no other. A woman and her dog are shown doing yoga together to demonstrate just how in sync they are.
Both campaigns were launched with national TV spots in English and French. Coupons, direct mail sampling and online elements supported the re-launch of Purina One SmartBlend.
Purina One SmartBlend Cat has grown 77%, while Dog is driving double-digit growth in the super premium category and is up 53%.
Heart & Stroke Foundation makes death wait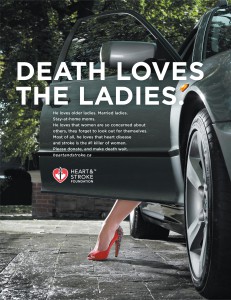 The Heart and Stroke Foundation of Canada was faced with a problem: Canadians were not viewing heart disease and stroke as seriously as other diseases. The agency set out to change the common misconception that heart disease and stroke exclusively affect men.

The campaign personified "Death" as an antagonist waiting to claim the lives of Canadians that were statistically owed to him by heart disease and stroke. Two 30-second television commercials took Death's point of view as he stalked Canadians in their daily lives. The first spot spoke directly to women, informing them that heart disease and stroke is their number one killer, while the second spot warned all Canadians that these diseases would take one in three before their time. Both spots ended with a strong call-to-action asking Canadians to "Make Death Wait."

Since the launch, Heart and Stroke has had over 105,408 page visits which included 86,022 unique visitors. The campaign garnered over 123,500 online impressions and the social reach is approaching one million people.